Activities of the S.J.C.
16th July 1943
Page 18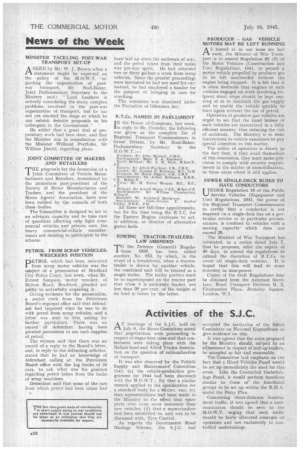 Page 18, 16th July 1943 —
Activities of the S.J.C.
Close
A T meetings of the S.J.C. held on r't July 6, the Rates Committee noted that ,negotiations were proceeding in respect of sugar-beet rates and that conferences were taking 'place with the Ballast Sand and Allied Trades Association on the question of rationalization of transport.
It was also observed by the Vehicle Supply and Maintenance Committee that: (a) the vehicle-production programme for 1944 had been discussed with the M.O.W.T.; (b) that a similar remark applied to the specification for a standard body for a 30-cwt. van; (c) that representations had been made to the Ministry to the effect that spare parts were even more necessary than new vehicles; (d) that a memorandum had. been subniitted to, and was to be ,discussed with, Tyre Control.
As regards the Government -Road Haulage Scheme, the S.J.C. had accepted the invitation of the Select Committee on National Expenditure to give evidence on this.
It was agreed that the rates proposed by the Ministry should, subject to an adjustment in respect of laid-up trailers, be accepted as fair and reasonable.
The Committee Laid emphasis on the fact that a Hired Vehicles Panel would be set up immediately the need for this arose. Like the Controlled Unclettaklugs Panel, it would perform functions similar to those of the functional groups to be set up within the R.H.A. under the Perry Plan.
Concerning short-distance Government traffic, it was agreed that a communication should be sent to the M.O.W.T. urging that such traffic should be fairly allocated amongst all operators and not exclusively to controlled undertakings.