One Hears— That the Luftwaffe plays "tip and run," but the R.A.F. game is " stop and raid."
16th July 1943
Page 17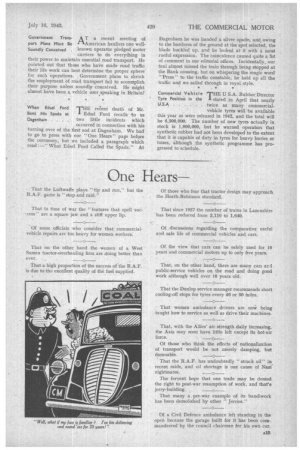 Page 17, 16th July 1943 —
One Hears— That the Luftwaffe plays "tip and run," but the R.A.F. game is " stop and raid."
Close
That in time of war the features that spell success" are a square jaw and a stiff upper lip.
*Of some officials who consider that commercial. vehicle repairs are too heavy for women workers.
That on the other hand the women of a West Sussex tractor-overhauling firm are doing better than ever.
That a high proportion of the success of the R.A.F. is due to the excellent quality of the fuel supplied. Of those who fear that tractor design may approach the Heath-Robinson standard.
That since 1927 the number of trams in Lancashire has been reduced from 3,110 to 1,649.
Of .discussions regarding the comparative useful and safe life of commercial vehicles and cars.
Of the view that cars can be safely used for 10 years and commercial motors up to only five years.
That, on the other hand, there are many cars ard public-service vehicles on the road and doing good work although well over 10 years old.
That the Dunlop service manager recommends short cooling-off stops for tyres every 40 or 50 Miles.
That women ambulance drivers are now being taught how to service as well as drive their machines.
That, with the Allies' air strength daily increasing, the Axis may soon have little left except its hot-air force.
Of those who think the effects of nationalization of transport would be not merely damping, but damnable.
That the R.A.F. has undoubtedly "struck oil" in recent raids, and oil shortage is one cause of Nazinightmares. The fervent hope that one trade may be denied the right to post-war resumption of work, and that's jerry-building.
That many a pre-war example of its handiwork has been demolished by other " Jerries."