Passing Comments
16th July 1943
Page 16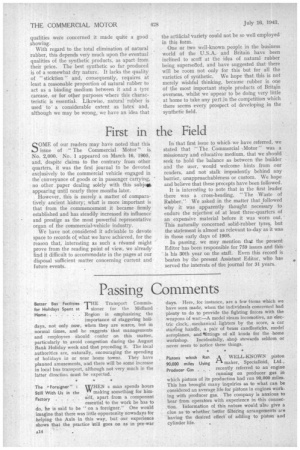 Page 17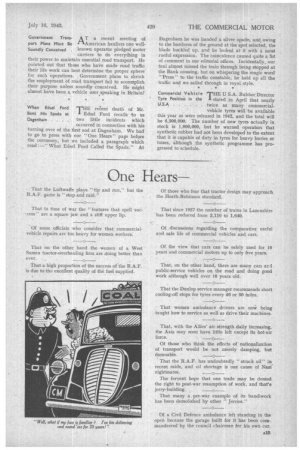 Page 16, 16th July 1943 —
Passing Comments
Close
Better Bus Facilities THE Transport Commis for Holidays Spent at sioner for the Midland Home Region is emphasizing the importance of staggering holidays, not only now, when they are scarce, but in normal times, and he suggests' that managements and employees should confer on this matter, particularly to avoid congestion during the August Bank Holiday week and that preceding it. The local authorities are, naturally, encouraging the spending of holidays in or near home towns. They have planned amusements, and there will be some increase in local bus transport, although not very much in the latter direction must be expected.
WHEN a man spends hours IT making something for himslf, apart from a component essential to the work he has to do, he is said to be "on a foreigner." One would imagine that there was little opportunity nowadays for helping the Axis in this way, but our experience shows that the practice 'still goes on as in pre-war
Al4 The "Foreigner" i Still With Us in the Factory
days. Here, for instance, are a few items which we have seen made, when the individuals concerned had plenty to do to provide the fighting forces with the weapons of war:—A model steam locomotive, an electric clock, mechanical lighters by the score, a, car starting handle, a pair of brass candlesticks, model aeroplanes, and fifittings of all kinds for the home workshop. Incidentally, shop stewards seldom or never seem to notice these things.
Pistons which Ran A WELL-KNOWN piston 90,000 miles Using I-1 maker, Specialloid, Ltd., Producer Gas . . recently referred to an engine running on producer gas in which pistons of its production had run 90,000 miles. This has brought many inquiries as to what can be considered an average life for pistons in engines working with producer gas. The company is anxious to hear from operators with experience in this connection. Information of this nature would -also give a clue as to whether better filtering arrangements ale having the desired effect. of adding to piston and cylinder life. Government TransA T a recent meeting of port Plans Must Be r-lAmerican hauliers one wellSoundly Conceived . known operator pledged motor
carriers to do everything in their power to maintain essential road transport. He pointed out that 'those who have made road traffic their life work can best determine the proper sphere for such operations. Government plans to shrink the employment of road transport fail to accomplish their purpose unless soundly conceived. He might almost have been a vehicle user speaking in Britain!
When Edsel Ford 'THE reZent death of Mr.
Bent His Spade at I Edsel Ford recalls to us Dagenham . . . . two little incidents which occurred in connection with his turning over of the 'first sod at Dagenham. We had to go to press with our "One Hears" page before the ceremony, but we included a paragraph which read :—" What Edsel Ford Called the Spade." At
Dagenham he was handed a silver spade, and owing to the hardness of the ground at the spot selected, the blade buckled up, and he looked at it with a most rueful expression.The coincidence caused quite a rot of comment in our editorial offices. Incidentally, our taxi almost missed the train through being stopped at the Bank crossing, but on whispering the magic word "Press" to the traffic constable, he held up all the traffic and we sailed through in royal. style.
Commercial Vehicle HELT S.A. Rubber Director
Tyre Position in the stated in April that nearly U .S.A twice as many commercial vehicle tyres will be available this year as were released in 1942, and the total will be 6,300,000. The number of new tyres actually in stock is 1,800,000, but he warned operators that synthetic rubber had not been developed to the extent that it is capable of duty in tyres for heavy lorries or buses, although the synthetic programme has progressed to schedule.