CV Industry Report 2014
16th January 2014
Page 9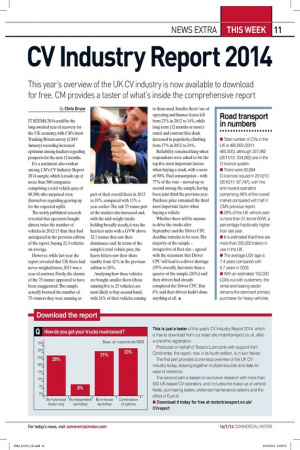 Page 9, 16th January 2014 —
CV Industry Report 2014
Close
This year's overview of the UK CV industry is now available to download for free. CM provides a taster of what's inside the comprehensive report By Chris Druce
IT SEEMS 2014 could be the long-awaited year of recovery for the UK economy, with CM's latest Trucking Britain survey (CM9 January) recording increased optimism among hauliers regarding prospects for the next 12 months.
It's a sentiment also evident among CM's CV Industry Report 2014 sample, which is made up of more than 500 companies comprising a total vehicle parc of 68,500, who surprised even themselves regarding gearing up for the expected uplift.
The newly published research revealed that operators bought almost twice the number of vehicles in 2012/13 than they had anticipated in the previous edition of the report, buying 22.3 vehicles on average. However, while last year the report revealed that UK fleets had never weighed more, 2013 was a year of contrast. Firstly, the demise of the 7.5-tonner appeared to have been exaggerated. The sample actually boosted the number of 7.5-tonners they were running as
part of their overall fleets in 2013 to 18%, compared with 13% a year earlier. The sub 7.5-tonne part of the market also increased and, with the mid-weight trucks holding broadly steady, it was the heaviest units with a GVVV above 32.1 tonnes that saw their dominance end. In terms of the sample's total vehicle parc, the heavy hitters saw their share tumble from 42% in the previous edition to 28%. Analysing how these vehicles are bought, smaller fleets (those running five to 25 vehicles) are most likely to buy second-hand, with 24% of their vehicles coming
to them used Smaller fleets' use of operating and finance leases fell from 23% in 2012 to 14%, while long-term (12 months or more) rental and contract hire deals increased in popularity, climbing from 17/0 in 2012 to 24%.
Reliability remained king when respondents were asked to list the top five most important factors when buying a truck, with a score of 90%. Fuel consumption — with 77% of the vote — moved up to second among the sample, having been joint third the previous year. Purchase price remained the third most important factor when buying a vehicle. Whether there will be anyone to drive the trucks after September and the Driver CPC deadline remains to be seen. The majority of the sample — irrespective of fleet size — agreed with the statement that Driver CPC will lead to a driver shortage (59% overall). Just more than a quarter of the sample (26%) said their drivers had already completed the Driver CPC. But 6% said their drivers hadn't done anything at all. •