'Severn Bridge makes haulage too expensive'
16th January 2014
Page 5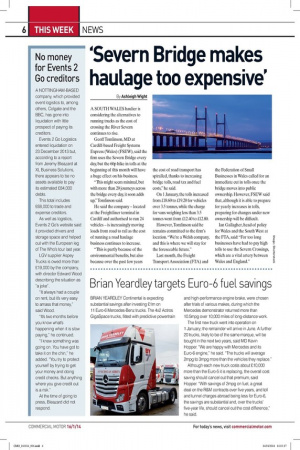 Page 5, 16th January 2014 —
'Severn Bridge makes haulage too expensive'
Close
By Ashleigh Wight
A SOUTH WALES haulier is considering the alternatives to running trucks as the cost of crossing the River Severn continues to rise.
Geoff Tomlinson, MD at Cardiff-based Freight Systems Express (Wales) (FSEW), said the firm uses the Severn Bridge every day, but the 60p hike in tolls at the beginning of this month will have a huge effect on his business.
"This might seem minimal, but with more than 20 journeys across the bridge every day, it soon adds up," Tomlinson said.
He said the company — located at the Freightliner terminal in Cardiff and authorised to run 24 vehicles — is increasingly moving loads from road to rail as the cost of running a road haulage business continues to increase. "This is partly because of the environmental benefits, but also because over the past few years
the cost of road transport has spiralled, thanks to increasing bridge tolls, road tax and fuel costs," he said.
On 1 January, the tolls increased from £18.60 to £19.20 for vehicles over 3.5 tonnes, while the charge for vans weighing less than 3.5 tonnes went from £12.40 to £12.80.
However, Tomlinson said he remains committed to the firm's location. "We're a Welsh company, and this is where we will stay for the foreseeable future." Last month, the Freight Transport Association (FTA) and the Federation of Small Businesses in Wales called for an immediate cut in tolls once the bridge moves into public
ownership. However, FSEW said that, although it is able to prepare for yearly increases in tolls, preparing for changes under new ownership will be difficult.
Ian Gallagher, head of policy for Wales and the South West at the FTA, said: "For too long businesses have had to pay high tolls to use the Severn Crossings, 7 which are a vital artery between 5 Wales and England."