Let's get physical
16th January 2014
Page 40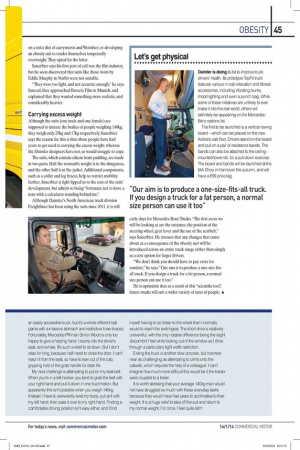 Page 40, 16th January 2014 —
Let's get physical
Close
Daimler is doing its bit to improve truck drivers' health. Its prototype TopFit truck features various in-cab relaxation and fitness accessories, including vibrating bunks, mood lighting and even a punch bag. While some of these initiatives are unlikely to ever make it into the real world, others will definitely be appearing on the MercedesBenz options list.
The first to be launched is a vertical rowing board —which can be placed on the new Actros's cab floor. Drivers stand on the board and pull on a pair of resistance bands. The bands can also be attached to the ceilingmounted towel rail, for a pull-down exercise. The board and bands will be launched at the IAA Show in Hannover this autumn, and will have a €99 price tag.
early days for Mercedes-Benz Trucks. "The first areas we will be looking at are the entrance, the position of the steering wheel, gear lever and the use of the seatbelt," says Sauerbier. He stresses that any changes that come about as a consequence of the obesity suit will be introduced across an entire truck range rather than simply as a cost option for larger drivers.
"We don't think you should have to pay extra for comfort," he says. "Our aim is to produce a one-size-fitsall truck. If you design a truck for a fat person, a normal size person can use it too." He is optimistic that as a result of this "scientific tool',' future trucks will suit a wider variety of sizes of people. •