picture
16th January 2014
Page 28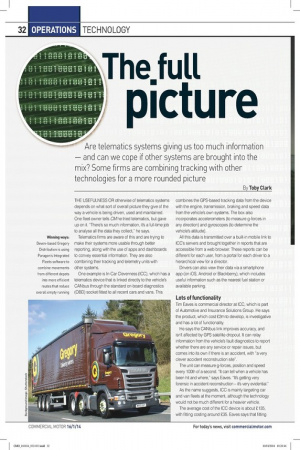 Page 29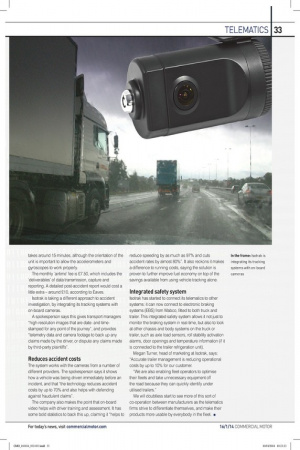 Page 28, 16th January 2014 —
picture
Close
Are telematics systems giving us too much information — and can we cope if other systems are brought into the mix? Some firms are combining tracking with other technologies for a more rounded picture By Toby Clark
THE USEFULNESS OR otherwise of telematics systems depends on what sort of overall picture they give of the way a vehicle is being driven, used and maintained. One fleet owner tells CM he tried telematics, but gave up on it. "There's so much information, it's a full-time job to analyse all the data they collect," he says.
Telematics firms are aware of this and are trying to make their systems more usable through better reporting, along with the use of apps and dashboards to convey essential information. They are also combining their tracking and telemetry units with other systems. One example is In-Car Cleverness (ICC), which has a telematics device that is linked directly to the vehicle's CANbus through the standard on-board diagnostics (OBD) socket fitted to all recent cars and vans. This
combines the GPS-based tracking data from the device with the engine, transmission, braking and speed data from the vehicle's own systems. The box also incorporates accelerometers (to measure g-forces in any direction) and gyroscopes (to determine the vehicle's attitude).
All this data is transmitted over a built-in mobile link to ICC's servers and brought together in reports that are accessible from a web browser. These reports can be different for each user, from a portal for each driver to a hierarchical view for a director.
Drivers can also view their data via a smartphone app (on i0S, Android or Blackberry), which includes useful information such as the nearest fuel station or available parking. Lots of functionality
Tim Eaves is commercial director at ICC, which is part of Automotive and Insurance Solutions Group. He says the product, which cost E2m to develop, is investigative and has a lot of functionality.
He says the CANbus link improves accuracy, and isn't affected by GPS satellite dropout. It can relay information from the vehicle's fault diagnostics to report whether there are any service or repair issues, but comes into its own if there is an accident, with "a very clever accident reconstruction site".
The unit can measure g-forces, position and speed every 100th of a second. "It can tell when a vehicle has been hit and where," says Eaves. "It's getting very forensic in accident reconstruction — it's very evidential."
As the name suggests, ICC is mainly targeting car and van fleets at the moment, although the technology would not be much different for a heavier vehicle. The average cost of the ICC device is about £135, with fitting costing around £35. Eaves says that fitting
takes around 15 minutes, although the orientation of the unit is important to allow the accelerometers and gyroscopes to work properly.
The monthly 'airtime' fee is £7.50, which includes the 'deliverables' of data transmission, capture and reporting. A detailed post-accident report would cost a little extra — around £10, according to Eaves.
Isotrak is taking a different approach to accident investigation, by integrating its tracking systems with on-board cameras.
A spokesperson says this gives transport managers "high-resolution images that are dateand timestamped for any point of the journey", and provides "telemetry data and camera footage to back up any claims made by the driver, or dispute any claims made by third-party plaintiffs". Reduces accident costs
The system works with the cameras from a number of different providers. The spokesperson says it shows how a vehicle was being driven immediately before an incident, and that "the technology reduces accident costs by up to 70% and also helps with defending against fraudulent claims". The company also makes the point that on-board video helps with driver training and assessment. It has some bold statistics to back this up, claiming it "helps to
reduce speeding by as much as 97% and cuts accident rates by almost 80%". It also reckons it makes a difference to running costs, saying the solution is proven to further improve fuel economy on top of the savings available from using vehicle tracking alone. Integrated safety system
Isotrak has started to connect its telematics to other systems: it can now connect to electronic braking systems (EBS) from Wabco, fitted to both truck and trailer. This integrated safety system allows it not just to monitor the braking system in real-time, but also to look at other chassis and body systems on the truck or trailer, such as axle load sensors, roll stability activation alarms, door openings and temperature information (if it is connected to the trailer refrigeration unit).
Megan Turner, head of marketing at Isotrak, says: "Accurate trailer management is reducing operational costs by up to 10% for our customer.
"We are also enabling fleet operators to optimise their fleets and take unnecessary equipment off the road because they can quickly identify under utilised trailers." We will doubtless start to see more of this sort of co-operation between manufacturers as the telematics firms strive to differentiate themselves, and make their products more usable by everybody in the fleet. •