We pitch a Oaf XF 105 against a New Actros MP4 to see which one comes out on top
16th January 2014
Page 23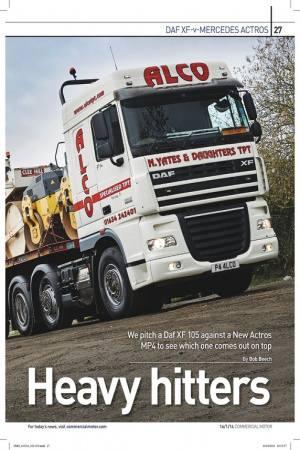 Page 24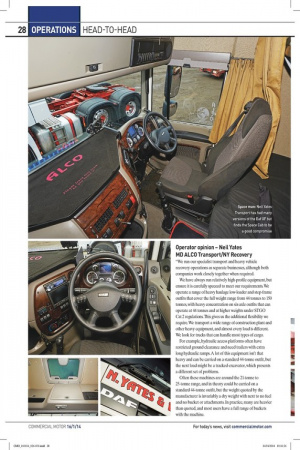 Page 25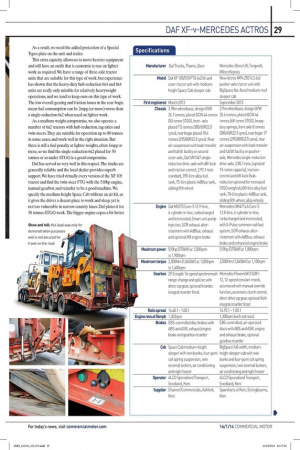 Page 26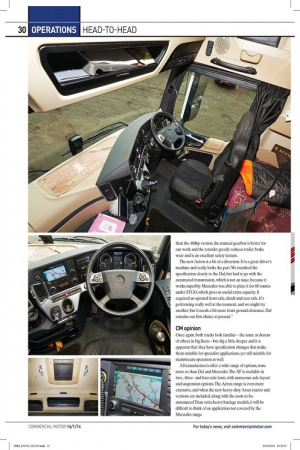 Page 27
Page 23, 16th January 2014 —
We pitch a Oaf XF 105 against a New Actros MP4 to see which one comes out on top
Close
Operator opinion Neil Yates MD ALCO Transport/NY Recovery
"We run our specialist transport and heavy vehicle recovery operations as separate businesses, although both companies work closely together when required.
We have always run relatively high-profile equipment, but ensure it is carefully specced to meet our requirements. We operate a range of heavy haulage low-loader and step-frame outfits that cover the full weight range from 44 tonnes to 150 tonnes, with heavy concentration on six-axle outfits that can operate at 44 tonnes and at higher weights under STGO Cat 2 regulations. This gives us the additional flexibility we require. We transport a wide range of construction plant and other heavy equipment, and almost every load is different. We look for trucks that can handle most types of cargo.
For example, hydraulic access platforms often have restricted ground clearance and need trailers with extra long hydraulic ramps. A lot of this equipment isn't that heavy and can be carried on a standard 44-tonne outfit, but the next load might be a tracked-excavator, which presents a different set of problems.
Often these machines are around the 21-tonne to 25-tonne range, and in theory could be carried on a standard 44-tonne outfit, but the weight quoted by the manufacturer is invariably a dry weight with next to no fuel and no bucket or attachments. In practice, many are heavier than quoted, and most users have a full range of buckets with the machine.
As a result, we need the added protection of a Special Types plate on the unit and trailer.
This extra capacity allows us to move heavier equipm and still have an outfit that is economic to use on lighter work as required. We have a range of three-axle tractor units that are suitable for this type of work, but experien has shown that the heavy-duty hub-reduction 6x4 and 8 units are really only suitable for relatively heavyweight operations, and we tend to keep ours on this type of wor The low overall gearing and friction losses in the rear bo mean fuel consumption can be 2mpg (or more) worse t a single-reduction 6x2 when used on lighter work.
As a medium-weight compromise, we also operate a number of 6x2 tractors with hub-reduction, tag-axles an twin-steers. They are suitable for operation up to 80 ton in some cases, and work well in the right situation. But there is still a fuel penalty at lighter weights, often 1mpg more, so we find the single-reduction 6x2 plated for 50 tonnes or so under STGO is a good compromise. Daf has served us very well in this respect. The trucks generally reliable and the local dealer provides superb support. We have tried virtually every version of the XF 1 tractor and find the twin-steer FTG with the 510hp engii manual gearbox and retarder to be a good machine. We specify the medium-height Space Cab without an air kit it gives the driver a decent place to work and sleep, yet i not too vulnerable in narrow country lanes. Daf plates it 50 tonnes STGO work. The bigger engine copes a bit be
.Int. cc :4 k. gie an I ;es or are D5 le, , as ; for [ter
than the 460hp version, the manual gearbox is better for our work and the retarder greatly reduces trailer brake wear and is an excellent safety feature.
The new Actros is a bit of a diversion. It is a great driver's machine and really looks the part. We matched the specification closely to the Daf, but had to go with the automated transmission, which is not an issue, because it works superbly. Mercedes was able to plate it for 68 tonnes under STGO, which gives us useful extra capacity. It required an uprated front axle, clutch and rear axle. It's performing really well at the moment, and we might try another, but it needs a bit more front ground clearance. Daf remains our first choice at present." CM Opinion
Once again, both trucks look familiar — the same as dozens of others in big fleets — but dig a little deeper and it is apparent that they have specification changes that make them suitable for specialist applications, yet still suitable for mainstream operation as well.
All manufacturers offer a wide range of options, none more so than Daf and Mercedes. The XF is available in two-, threeand four-axle form, with numerous axle layout and suspension options. The Actros range is even more extensive, and when the new heavy-duty Arocs tractor unit versions are included, along with the soon-to-beannounced Titan extra heavy haulage models, it will be difficult to think of an application not covered by the Mercedes range.
While all this additional technology is impressive and popular in other markets, British operators have to compromise with vehicle specifications. Unladen weight, fuel use and the sheer adaptability of a truck for a number of different tasks are big priorities. In this instance a big heavy-duty 6x4 tractor with 600hp-plus might be ideal for shifting heavy plant across difficult terrain, but is uneconomic when moving lighter equipment on highways. The Daf XF 105 510 in this modified form is a good example of the UK art of compromise. It has a reasonably powerful motor with plenty of low-speed torque, a 16-speed 'manual box with a wide spread of ratios and a
fuel-efficient single-reduction drive-axle. It is combined with an effective retarder, which, if used properly, takes care of most on-road braking and greatly reduces brake wear. The 50-tonne STGO rating is fairly conservative. Apart from the uprated front-axle, the rear-bogie loading is unchanged and everything is well within the design tolerances of the standard version.
This increase in gross weight gives the operator the ability to move a 29-tonne to 30-tonne load on this outfit, and still benefit from reduced running costs. Furthermore, the increased axle loads allowed on the trailer bogie under STGO limits give a useful axle load tolerance of six tonnes or more over the maximum permitted gross of the outfit. The Actros in this form takes the concept a stage further. It matches the Daf in most respects, automated gearbox apart. The extra 18-tonne gross weight capability is a useful increase, but it would be difficult to make full use of this without running the risk of tractor axle overloads, even with a four-axle trailer. The physical dimensions of most excavators and other heavy plant requires the load to be placed against the neck of a step-frame trailer, running the risk of
increased kingpin load. Actros would be better suited carrying
cargo where more of the imposed load could be spread over the trailer axles. This aspect apart, Mercedes is to be applauded for
offering this gross weight rating with a single-reduction drive-axle. The new Actros has a good reputation for fuel economy in normal construction and use applications, and the ability to use this fuel-efficient driveline for heavier work is a big attraction. The well-proven Powershift transmission is now the equal of any of its competitors (including I-Shift), and with a competent driver shouldn't be a handicap in any situation, although some might take a bit of convincing after years of driving manual 'boxes. One feature the operator has highlighted is the relatively low ground clearance on the Mercedes, which might well be a liability on rough ground. The modern front unden-un regulations are a constant problem in these applications. Maybe the option of a heavy front bumper might ease their fears. In this case the more basic Daf is probably a better bet, but the Actros is a better drive. •