beco e a victim
16th January 2014
Page 15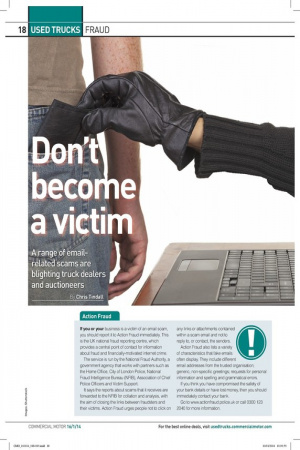 Page 16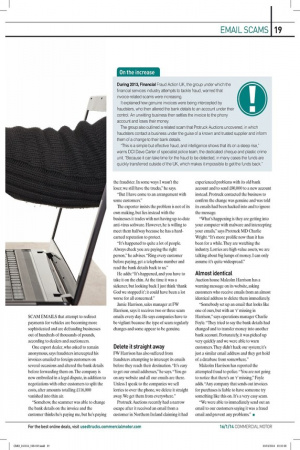 Page 15, 16th January 2014 —
beco e a victim
Close
A range of emailrelated scams are blighting truck dealers and auctioneers By Chris Tindall
Action Fraud
If you or your business is a victim of an email scam, you should report it to Action Fraud immediately. This is the UK national fraud reporting centre, which provides a central point of contact for information about fraud and financially-motivated internet crime.
The service is run by the National Fraud Authority, a government agency that works with partners such as the Home Office, City of London Police, National Fraud Intelligence Bureau (NFIB), Association of Chief Police Officers and Victim Support. It says the reports about scams that it receives are forwarded to the NFIB for collation and analysis, with the aim of closing the links between fraudsters and their victims. Action Fraud urges people not to click on
any links or attachments contained within a scam email and not to reply to, or contact, the senders. Action Fraud also lists a variety of characteristics that fake emails often display. They include different
email addresses from the trusted organisation; generic, non-specific greetings; requests for personal information and spelling and grammatical errors.
If you think you have compromised the safety of your bank details or have lost money, then you should immediately contact your bank.
Go to www.actionfraud.police.uk or call 0300 123 2040 for more information.
On the increase
During 2013, Financial Fraud Action UK, the group under which the financial services industry attempts to tackle fraud, warned that invoice-related scams were increasing.
It explained how genuine invoices were being intercepted by fraudsters, who then altered the bank details to an account under their control. An unwitting business then settles the invoice to the phony account and loses their money.
The group also outlined a related scam that Protruck Auctions uncovered, in which fraudsters contact a business under the guise of a known and trusted supplier and inform them of a change to their bank details.
This is a simple but effective fraud, and intelligence shows that it's on a steep rise," warns DCI Dave Carter of specialist police team, the dedicated cheque and plastic crime unit. "Because it can take time for the fraud to be detected, in many cases the funds are quickly transferred outside of the UK, which makes it impossible to get the funds back."
SCAM EMAILS that attempt to redirect payments for vehicles are becoming more sophisticated and are defrauding businesses out of hundreds of thousands of pounds, according to dealers and auctioneers.
One export dealer, who asked to remain anonymous, says fraudsters intercepted his invoices emailed to foreign customers on several occasions and altered the bank details before forwarding them on. The company is now embroiled in a legal dispute, in addition to negotiations with other customers to split the costs, after amounts totalling £116,000 vanished into thin air. "Somehow, the scammer was able to change the bank details on the invoice and the customer thinks he's paying me, but he's paying
the fraudster. In some ways I wasn't the loser; we still have the trucks," he says.
"But I have come to an arrangement with some customers."
The exporter insists the problem is not of its own making, but lies instead with the businesses it trades with not having up-to-date anti-virus software. However, he is willing to meet them halfway because he has a hardearned reputation to protect.
"It's happened to quite a lot of people. Always check you are paying the right person," he advises. "Ring every customer before paying, get a telephone number and read the bank details back to us."
He adds: "It's happened, and you have to take it on the chin. At the time it was a sickener, but looking back I just think 'thank God we stopped it'; it could have been a lot worse for all concerned."
Jamie Harrison, sales manager at FW Harrison, says it receives two or three scam emails every day. He says companies have to be vigilant because the type of scam regularly changes and some appear to be genuine. Delete it straight away
FW Harrison has also suffered from fraudsters attempting to intercept its emails before they reach their destination. "It's easy to get our email addresses," he says. "You go on any website and all our emails are there. Unless I speak to the companies we sell lorries to over the phone, we delete it straight away. We get them from everywhere." Protruck Auctions recently had a narrow escape after it received an email from a customer in Northern Ireland claiming it had
experienced problems with its old bank account and to send £80,000 to a new account instead. Protruck contacted the business to confirm the change was genuine and was told its emails had been hacked into and to ignore the message.
"What's happening is they are getting into your computer with malware and intercepting your emails," says Protruck MD Charlie Wright. "It's more prolific now than it has been for a while. They are watching the industry. Lorries are high-value assets, we are talking about big lumps of money. I can only assume it's quite widespread." Almost identical
Auction house Malcolm Harrison has a warning message on its website, asking customers who receive emails from an almost identical address to delete them immediately.
"Somebody set up an email that looks like one of ours, but with an 'r' missing in Harrison," says operations manager Charlie Foyle. "They tried to say the bank details had changed and to transfer money into another bank account. Fortunately, it was picked up very quickly and we were able to warn customers. They didn't hack our system; it's just a similar email address and they got hold of a database from somewhere."
Malcolm Harrison has reported the attempted fraud to police. "You are not going to notice that there's an 'r' missing," Foyle adds. "Any company that sends out invoices for purchases is liable to have someone try something like this on. It's a very easy scam. "We were able to immediately send out an email to our customers saying it was a fraud email and prevent any problems." •