Appeal against suspect PG9s
16th January 2014
Page 12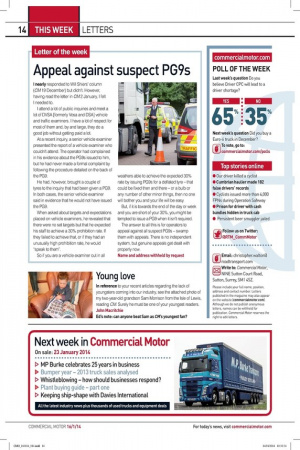 Page 12, 16th January 2014 —
Appeal against suspect PG9s
Close
I nearly responded to Will Shiers' column (CM 19 December) but didn't. However, having read the letter in CM 2 January, I felt I needed to.
I attend a lot of public inquiries and meet a lot of DVSA [formerly Vosa and DSA] vehicle and traffic examiners. I have a lot of respect for most of them and, by and large, they do a good job without getting paid a lot.
At a recent inquiry, a senior vehicle examiner presented the report of a vehicle examiner who couldn't attend. The operator had complained in his evidence about the PG9s issued to him, but he had never made a formal complaint by following the procedure detailed on the back of the PG9.
He had, however, brought a couple of tyres to the inquiry that had been given a PG9. In both cases, the senior vehicle examiner said in evidence that he would not have issued the PG9.
When asked about targets and expectations placed on vehicle examiners, he revealed that there were no set targets but that he expected his staff to achieve a 30% prohibition rate. If they failed to achieve that, or if they had an unusually high prohibition rate, he would "speak to them". So if you are a vehicle examiner out in all
weathers able to achieve the expected 30% rate by issuing PG9s for a deflated tyre — that could be fixed then and there — or a bulb or any number of other minor things, then no one will bother you and your life will be easy.
But, if it is towards the end of the day or week and you are short of your 30%, you might be tempted to issue a PG9 when it isn't required.
The answer to all this is for operators to appeal against all suspect PG9s — swamp them with appeals. There is no independent system, but genuine appeals get dealt with properly now. Name and address withheld by request