Weaver Decision Attacked Again
16th January 1959
Page 68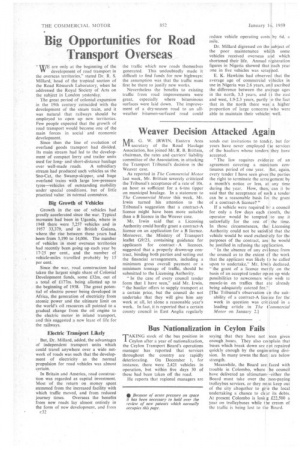 Page 68, 16th January 1959 —
Weaver Decision Attacked Again
Close
NAR. G. W. IRWIN, Eastern Area secretary of the Road Haulage Association, has joined Mr. R. B. Brittain, chairman, the rates and carriers' liability committee of the Association, in attacking the Transport Tribunal's decision in the Weaver case.
As reported in The Commercial Motor last week, Mr. Brittain severely criticized the Tribunal's acceptance of a rate of 10s. an hour as sufficient for a 6-ton tipper on municipal haulage. In a statement to The Commercial Motor this week, Mr. Irwin turned his attention to the Tribunal's suggestion that a contract-A licence might have been more suitable than a B licence in the Weaver case.
Mr. Irwin said that a Licensing Authority could hardly grant a contract-A licence on an application for a 13 licence. Moreover, the Ministry of Transport leaflet G9/23, containing guidance for applicants for contract A licences, suggested that a properly drawn-up contract, binding both parties and setting out the financial arrangements, including a minimum gross overall payment or a minimum tonnage of traffic, should be submitted to the Licensing Authority.
"In the case of every council tender form that I have seen," said Mr. Irwin. "the haulier offers to supply transport at a certain price, but the council do not undertake that they will give him any work at all, let alone a reasonable year's work. In fact, it is reported that a certain county council in East Anglia regularly
sends out invitations to tench r, but for years have never employed t: le services of the hauliers whose tenders they have accented. •
" The law requires eviderce of an• agreement covering a minimum continuous period of one year. Rut, again, every tender I have seen gives the parties the right to terminate the arra' gement by a month's notice or less, at any time during the year. How, then, can it be said that the acceptance of sum h a tender can be a reasonable basis foi the grant of a contract-A licence? "
If a vehicle were required bt a council for only a few days each tionth, the operator would be tempted to use it unlawfully for the rest of the time. In those circumstances, the Licensing Authority could not be satisfiml that the vehicle would he used exclusil ely for the purposes of the contract, ant he would be justified in refusing the apr lication.
in the absence of any evi lence from the council as to the extent cr the work that the applicant was likely 1, be called upon to undertake," Mr. Irwin declared. "the grant of a licence mer.ly on the basis of an accepted tender op ns up wide possibilities to newcomers who wish to muscle-in on traffics that are already being adequately catered for."
[The Tribunal's observation c n the suitability of a contract-A lice: ice for the work in question was crit cized in a leading article in The Commercial Motor on January 2.]