Political Commentary By JANUS
16th January 1959
Page 63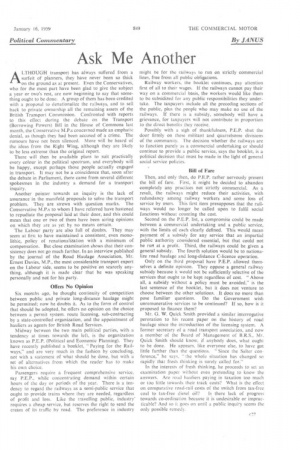 Page 63, 16th January 1959 —
Political Commentary By JANUS
Close
Ask Me Another
ALTHOUGH transport has always suffered from a surfeit of planners, they have never been so thick on the ground as at present. Even the Conservatives, who for the most part have been glad to give the subject a year or two's rest, are now beginning to say that something ought to be done. A group of them has been credited with a proposal to denationalize the railways, and to sell back to private ownership all the remaining assets of the British Transport Commission. Confronted with reports to this effect during the debate on the Transport (Borrowing Powers) Bill in the House of Commons last month, the Conservative M.P.s concerned made an emphatic denial, as though they had been accused of a crime. The rumours have not been silenced. More will be heard of the ideas from the Right Wing, although they are likely to be less extreme than the original report.
There will then be available plans to suit practically every colour in the political spectrum, and everybody will be happy, except perhaps those people actually engaged in transport. It may not be a coincidence that, soon after the debate in Parliament, there came from several different spokesmen in the industry a demand for a transport inquiry.
Another pointer towards an inquiry is the lack of assurance in the manifold proposals to solve the transport problem. They are strewn with question marks. The Conservative M.P.s to whom I have referred have hastened to repudiate the proposal laid at their door, and this Could mean that one or two of them have been airing opinions on which they are as yet by no means certain.
The Labour party are also full of doubts. They may. seem at first to have maintained a consistent, even monolithic, policy of renationalization with a minimum of compensation. But close examination shows that their consistency does not go much further, In an interview published by the journal of the Road Haulage Association, Mr. Ernest Davies, M.P., the most considerable transport expert on the Labour side, seems to be positive on scarcely anything, although it is made clear that he was speaking personally and not for his party.
Offers No Opinion .
Six months ago, he thought continuity of competition between public and private long-distance haulage might be permitted; now he doubts it. As to the form of control that should be adopted, he offers no opinion on the choice between a permit system. route licensing, sub-contracting by a state-controlled organization, and the appointment of
hauliers as agents for British Road Services. .
Midway between the two main political parties, with a tendency at times towards the left, is the organization known as P.E.P. (Political and Economic Planning). They have recently published a booklet, "Paying for the Railways," and are very much in the fashion by concluding, not with a statement of what should be done, but with a set of alternatives from which the reader has to make his own choice.
Passengers require a frequent comprehensive service, say P.E.P., while concentrating demand within certain hours of the day or periods of the year. There is a tendency to regard the railways as a semi-public service that ought to provide trains where they are needed, regardless of profit and loss. Like the travelling public, industry' requires a cheap service, but reserves the right to send the cream of its traffic by road. The preference in industry might be for the railways to run on strictly commercial lines, free from all public obligations.
Railway workers, the booklet continues, pay attention first of all to their wages. If the railways cannot pay their way on a commercial basis, the workers would like them to be subsidized for any public responsibilities they undertake. The taxpayers include all the preceding sections of the public, plus the people who may make no use of the railways. If there is a subsidy, somebody will have a grievance, for taxpayers will not contribute in proportion to the direct benefits they receive.
Possibly with a sigh of thankfulness, P.E.P. shut the door firmly on these militant and quarrelsome divisions of the community. The decision whether the railways are to function purely as a commercial undertaking or should continue to provide a public service, says the booklet, is a political decision that must be made in the light of general social service policies.
Bill of Fare Then, and only then, do P.E.P. rather nervously present the bill of fare. First, it might be decided to abandon completely any practices not strictly commercial. As a result, the railways might reduce their activities, with redundancy among railway workers and some loss of service by users. This first item presupposes that the railways would no longer be called upon to fulfil social functions without counting the cost.
Second on the P.E.P. list, a compromise could be made between a commercial undertaking and a public service, with the limits of each clearly defined. This would mean payment of a subsidy for any service that an impartial public authority considered essential, but that could not be rut, at a profit. Third, the railways could be given a generalsubsidy. The fourth solution would be to nationalize road haulage and long-distance C-licence operation.
Only on the third proposal have P.E.P. allowed themselves a definite opinion. They oppose a general railway subsidy because it would not be sufficiently selective of the services that ought to be kept regardless of cost. " Above all, a subsidy without a policy must be avoided," is the last sentence of the booklet, but it does not venture to choose between the other solutions. It does'no more than pose familialquestions. Do the Government wish unreinunerative services to be continued? If so, how is it proposed to finance them?
Mr. G. W. Quick Smith provided a similar interrogative peroration to his recent paper on the history of road haulage since the introduction of the licensing system. A former secretary of a road transport association, and now a member of the Board of Management of B.R.S., Mr. Quick Smith should know, if anybody does, what ought to be done. He appears, like everyone else, to have got little further than the questions. " Since the Salter conference," he says, the whole situation has changed so rapidly that fresh thinking is surely called for."
In the interests of fresh thinking, he proceeds to set an examination paper without even pretending to know the answers. Are road hauliers paying in taxation too much or too little towards their track costs? What is the effect on comparative road-rail costs of the switch from tax-free coal to tax-free diesel oil? Is there lack of progress towards co-ordination because it is undesirable or impracticable? And so it goes on until a public inquiry seems the only possible remedy.