Labour's Attitude on Transport Hardening
16th January 1959
Page 38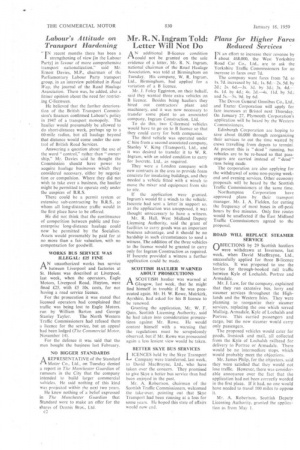 Page 38, 16th January 1959 —
Labour's Attitude on Transport Hardening
Close
WORKS BUS SERVICE WAS ILLEGAL: £25 FINE
"IN recent months there has been a I strengthening of view [in the Labour Party] in favour of more comprehensive transport nationalization," said Mr. Ernest Davies, M.P., chairman of the Parliamentary Labour Party transport group, in an interview published in Road Way, the journal of the Road Haulage Association. There was, he added, also a firmer opinion about the need for restricting C-licensees.
He believed that the further deterioration of the British Transport Commission's finances confirmed Labour's policy in 1947 of a transport monopoly. The haulier would presumably be allowed to do short-distance work, perhaps up to a 60-mile radius, but all haulage beyond that distance would come under the control of British Road Services.
Answering a question about the use of the word "control," rather than "owner ship," Mr. Davies said he thought the Commission should have power to acquire haulage businesses which they considered necessary, either by negotiation or compulsion. Where they did not wish to take over a business, the haulier might be permitted to operate only under the auspices of B.R.S.
There could be a permit system or extensive sub-contracting by B.R.S., to whom all long-distance traffic would in the first place have to be offered.
He did not think that the continuance of competition between public and freeenterprise long-distance haulage could now be permitted by the Socialists. Assets would presumably be paid for at no more than a fair valuation, with no compensation for goodwill.
AN unauthorized works bus service between Liverpool and factories at St. Helens was described at Liverpool, last week, when the operators, Eagle Motors, Liverpool Road, Huyton, were fined £25, with £5 10s. costs, for nor having a road service licence.
For the prosecution it was stated that licensed operators had complained that traffic was being lost to Eagle Motors. run by William Barton and George
Stanley Taylor. The North Western Traffic Commissioners had refused them a licence for the service, but an appeal had been lodged (The Commercial Motor, November 14).
For the defence it was said that the men bought the business last February.
NO BIGGER STANDARDS
A REPRESENTATIVE of the Standard Motor Co., Ltd.. on Tuesday denied a report in The Manchester Guardian of rumours in the City that the company intended to build larger commercial vehicles. He said nothing of this kind was projected within the next two years. He knew nothing of a belief expressed in The Manchester Guardian that Standard were to make an offer for the shares of Dennis BroS., Ltd.
c2
Mr. R. N. Ingram Told: Letter Will Not Do
AN additional B-licence condition could not be granted on the sole evidence of a letter, Mr. R. N. Ingram, national chairman of the Road Haulage Association, was told at Birmingham on Tuesday. His company, W. R. Ingram, Ltd., Birmingham. had applied for a variation of a B licence.
Mr. J. Foley Egginton, on their behalf, said they wanted three extra vehieles on B licence. Besides being hauliers they hired out contractors' plant and machinery, and it was now necessary to transfer some plant to an associated company, Ingram Construction. Ltd.
To do this, two C-licensed vehicles would have to go on to B licence so that they could carry for both companies.
The third vehicle was operated under C hire from a second associated company, Stanley V. King (Transport), Ltd., and it was desired to transfer it to W. R. Ingram. with an added condition to carry for Isocrete. Ltd., as required.
They were a London company with new contracts in the area to provide foam concrete for insulating buildings, and they needed a vehicle fitted with a winch to move the mixer and equipment from site to site.
If the application were granted. Ingram's would fit a winch to the vehicle. lsocrete had sent a letter in support so, as the application was unopposed, it was thought unnecessary to have a witness.
Mr. R. Hall, West Midland Deputy Licensing Authority, said the grant of facilities to carry goods was an important business advantage, and it should be no hardship in such circumstances to send a witness. The addition of the three vehiclesto the licence would be granted to carry only for Ingram Construction as required. If Isocrete provided a witness a further application could be made.
SCOTTISH HAULIER WARNED ABOUT PROSECUTIONS
rtA SCOTTISH haulier was warned at Glasgow, last week, that he might find himself in trouble if he was prosecuted again. Mr. H. W. Rowe, Muirkirk, Ayrshire, had asked for his B licence to be renewed.
Granting the application. Mr. W. F. Quin, Scottish Licensing Authority, said he had taken into consideration prosecutions against Mr. Rowe. He would content himself with a warning that the regulations must be scrupulously observed, but if Mr. Rowe was prosecuted again a less lenient view would be taken.
BETTER SKYE BUS SERVICES
LICENCES held by the Skye Transport Company were transferred, last week, to David MacBrayne, Ltd., who have taken over the concern. They promised to give Skye a better bus service than had been enjoyed in the past.
Mr. A. Robertson, chairman of the Scottish Traffic Commissioners, welcomed the take-over. pointing out that Skye Transport had been running at a loss for some years. He hoped this state of affairs would now end.
Plans for Higher Fares Reduced Services
IN an effort to increase their revenue by 1 about £68,000, the West Yorkshire Road Car Co., Ltd., are to ask the Yorkshire Traffic Commissioners for an increase in fares over 7d.
The company want fares from 7d. to Is. 7d. increased by Id.; Is. 8d.-2s. 5d. by 2d.; 2s, 6d.-3s. 3d. by 3d.; 3s. 4d.-4s. Id. by 4d.; 4s. 2d.-4s. 11d. by 5d.: and 5s.-5s. 9d. by 6d.
The Devon General Omnibus Co., Ltd.. and Exeter Corporation will apply for fare increases at Bristol next Thursday. On January 27, Plymouth Corporation's application will be heard by the Western Comm issioners.
Edinburgh Corporation are hoping to save about 16,000 through reorganizing their services to cut the time wasted by crews travelling from depots to termini. At present this is " dead " running, but vehicles are to be re-based so that passengers are carried instead of " dead " runs being made.
The corporation are also applying for the withdrawal of some non-paying weekend and evening services, Other economy proposals will be heard by the Scottish Traffic Commissioners at the same time.
Northampton Corporation have approved plans by their transport manager, Mr. J. A. Fielden, for cutting the frequency of most buses in off-peak hours by five minutes. Only five routes would be unaffected if the East Midland Traffic Commissioners agreed to the proposal, ROAD WILL REPLACE STEAMER SERVICE
nBJECTIONS by 29 Scottish hauliers
were withdrawn at Inverness, last week, when David MacBrayne, Ltd., successfully applied for three B-licence vehicles. It was proposed to use the lorries for through-booked rail traffic betWeen Kyle of Lochalsh, Portree and Armadale.
Mr. J. Law, for the company, explained that they run extensive bus, lorry and steamer services throughout the Highlands and the Western Isles. They were planning to reorganize their steamer services, replacing the one which served Mallaig, Armadale, Kyle of Lochalsh and Portree. This carried passengers and cargo, but the new steamer would carry only passengers.
The proposed vehicles would cater for goods, livestock and mail, all collected from the Kyle of Lochalsh railhead for delivery to Portree or Armadale. There would be no intermediate stops, which would probably meet the objections.
Mr. James Philp, for the objectors, said they were satisfied that they would not lose traffic. However, there was considerable annoyance over the fact that the application had not been correctly worded in the first place. If it had, no one would have needed to travel 100 miles to oppose it.
Mr. A. Robertson, Scottish Deputy Licensing Authority, granted the application as from May I.
Tags
People
:
J. Foley Egginton
,
Ernest Davies
,
H. W. Rowe
,
W. F. Quin
,
A. Robertson
,
J. Law
,
R. N. Ingram Told
,
James Philp
,
R. N. Ingram
,
J. A. Fielden
,
William Barton
,
George Stanley Taylor