Dover blockade is threatened
16th February 1995
Page 8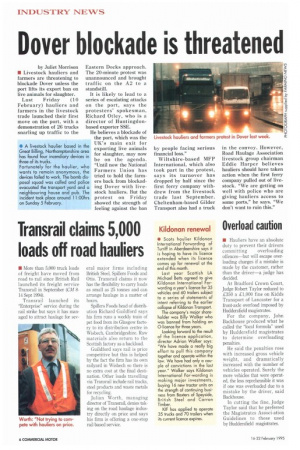 Page 8, 16th February 1995 —
Dover blockade is threatened
Close
by Juliet Morrison • Livestock hauliers and farmers are threatening to blockade Dover unless the port lifts its export ban on live animals for slaughter.
Last Friday (10 February) hauliers and farmers in the livestock trade launched their first move on the port, with a demonstration of 26 trucks snarling up traffic to the Eastern Docks approach. The 20-minute protest was unannounced and brought traffic on the A2 to a standstill.
It is likely to lead to a series of escalating attacks on the port, says the protesters' spokesman, Richard Otley, who is a director of Huntingdonbased exporter SSE.
He believes a blockade of the port, which was the UK's main exit for exporting live animals for slaughter, may now be on the agenda. "Until now the National Farmers Union has tried to hold the farmers back from blockading Dover with livestock hauliers. But the protest on Friday showed the strength of feeling against the ban by people facing serious financial loss."
Wiltshire-based MFP International, which also took part in the protest, says its turnover has dropped by half since the first ferry company withdrew from the livestock trade last September. Cheltenham-based Gilder Transport also had a truck in the convoy. However, Road Haulage Association livestock group chairman Eddie Harper believes hauliers should have taken action when the first ferry company pulled out of livestock. "We are getting on well with police who are giving hauliers access to some ports," he says. "We don't want to ruin this."