Trailer review set to force up prices
16th February 1995
Page 6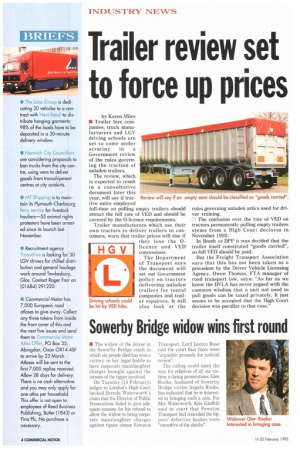 Page 6, 16th February 1995 —
Trailer review set to force up prices
Close
Keywords :
Marketing
,
Mass Media
,
Agricultural Machinery
,
Engineering Vehicles
,
Trailer
,
Tractor
,
Business
,
Film Trailer
,
Driving Licence In The United Kingdom
,
Politics
,
Business / Finance
by Karen Miles
• Trailer hire companies, truck manufacturers and LGV driving schools are set to come under scrutiny in a Government review of the rules governing the traction of unladen trailers.
The review, which is expected to result in a consultative document later this year, will say if tractive units employed full-time on pulling empty trailers should attract the full rate of VED and should he covered by the 0-licence requirements.
Trailer manufacturers which use their own tractors to deliver trailers to customers, warn that trailer prices will rise if they lose the 0licence and VED concessions.
The Department of Transport says the document will set out Government policy on tractors delivering unladen trailers for rental companies and trailer repairers. It will also look at the rules governing unladen artics used for driver training.
III The confusion over the rate of VED on tractors permanently pulling empty trailers stems from a High Court decision in November 1992.
In Booth vs DPP it was decided that the trailer itself constituted "goods carried", so full VED should be paid.
But the Freight Transport Association says that this has not been taken as a precedent by the Driver Vehicle Licensing Agency. Owen Thomas, FTA manager of road transport law, says: "As far as we know the DVLA has never argued with the common wisdom that a unit not used to pull goods can be taxed privately. It just seems to be accepted that the High Court decision was peculiar to that case."