Sowerby Bridge widow wins first round
16th February 1995
Page 6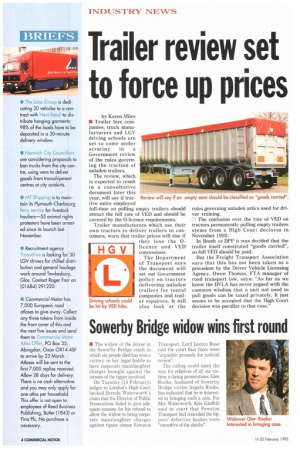 Page 6, 16th February 1995 —
Sowerby Bridge widow wins first round
Close
Keywords :
Manslaughter
,
Corporate Crime
,
English Criminal Law
,
Corporate Manslaughter
,
United Kingdom Company Law
,
Rooke
,
Sowerby Bridge
,
Fewston
,
Tipper
,
Manslaughter In English Law
,
Law / Crime
• The widow of the driver in the Sow erby Bridge crash in which six people died has won a victory in her legal battle to have corporate manslaughter charges brought against the owners of the tipper involved.
On Tuesday (14 February) judges in London's High Court backed Brenda Waterworth's claim that the Director of Public Prosecutions failed to give adequate reasons for his refusal to allow the widow to bring corporate manslaughter charges against tipper owner Fewston Transport. Lord Justice Rose told the court that there were "arguable grounds for judicial review".
The ruling could open the way for relatives of all six victims to bring prosecutions. Glen Rooke, husband of Sowerby Bridge victim Angela Rooke, has indicated that he is interested in bringing such a case. For Mrs Waterworth, Kris Gledhill said in court that Fewston Transport had conceded the tippers' defective brakes were "causative of the deaths".