Breakdown blues
16th February 1995
Page 28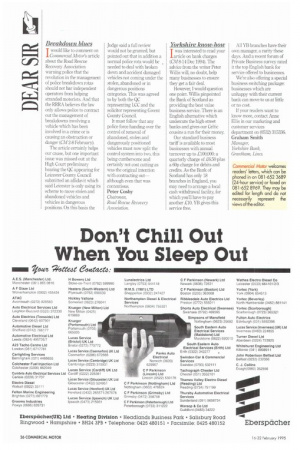 Page 28, 16th February 1995 —
Breakdown blues
Close
T would like to comment on 1Commercial Motor's article about the Road Rescue Recovery Association warning police that the revolution in the management of police breakdown rotas should not bar independent operators from helping stranded motorists. And that the RRRA believes the law only allows police to contract out the management of breakdowns involving a vehicle which has been involved in a crime or is causing an obstruction or danger (CM 2-8February).
The article certainly helps our cause, but one important issue was missed out: at the High Court preliminary hearing the QC appearing for Leicester County Council submitted an affidavit which said Leicester is only using its scheme to move stolen and abandoned vehicles and vehicles in dangerous positions. On this basis the Judge said a full review would not be granted, but pointed out that in addition a normal police rota would be needed to deal with broken down and accident damaged vehicles not coming under the stolen, abandoned or in dangerous positions categories. This was agreed to by both the QC representing I,CC and the solicitor representing Gwent County Council.
It must follow that any police force handing over the control of removal of abandoned, stolen and dangerously positioned vehicles must now split the control system into two, this being cumbersome and certainly not cost cutting as was the original intention with contracting out— although even that was contentious.
Peter Cosby
Chairman, Road Rescue Recovery Association.
Yorkshire know-how
T was interested to read your i article on bank charges (CM 8-14 Dec 1994). The advice from the writer Peter Willis will, no doubt, help many businesses to ensure they get a fair deal.
However, I would question one point. Willis pinpointed the Bank of Scotland as providing the best value business service. There is an English alternative which undercuts the high-street banks and gives our Celtic cousins a run for their money.
Our standard business tariff is available to most businesses with annual turnover up to £100,000: a quarterly charge of £6.50 plus a 60p charge for debits and credits. As the Bank of Scotland has only 18 branches in England, you may need to arrange a local cash withdrawal facility, for which you'll have to pay another £10. YB gives this service free. All YB branches have their own manager, a rarity these days. And a recent forum of Private Business survey rated it the top English bank for service offered to businesses.
We're also offering a special business switching package: businesses which are unhappy with their current bank can move to us at little or no cost.
If your readers want to know more, contact Anne Ellis in our marketing and customer services department on (0532) 315336. Graham Smith
Manager, Yorkshire Bank, Grantham, Lincs.