Wheel-loss is not punished
16th February 1995
Page 25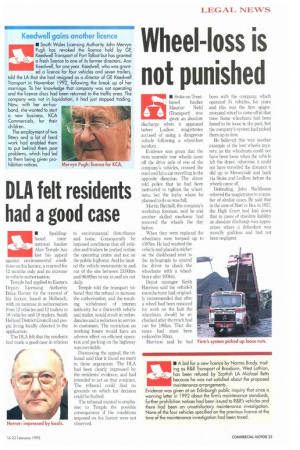 Page 25, 16th February 1995 —
Wheel-loss is not punished
Close
• Stoke-on-Trent based haulier Maurice Nield (Transport) was given an absolute discharge when it appeared before Ludlow magistrates accused of using a dangerous vehicle following a wheel-loss incident.
Evidence was given that the twin nearside rear wheels mine off the drive axle of one of the company's vehicles, crossed the road and hit a car travelling in the opposite direction. The driver told police that he had been instructed to tighten the wheelnuts, but the layby where he planned to do so was full.
Martin Birchall, the company's workshop foreman, said he and another skilled mechanic had removed the wheels the day before.
When they were replaced the wheelnuts were torqued up to 450Nm. He had washed the vehicle and placed a sticker on the dashboard next to the tachograph to remind the driver to check the wheelnuts with a wheelbrace after 100km.
Depot manager Keith Harrison said the vehicle's manufacturer had originally recommended that after a wheel had been removed for work on the hub the wheelnuts should be rechecked after the truck had run for 100km. That distance had since been reduced to 501an.
Harrison said he had been with the company, which operated 34 vehicles, for years and this was the first spigotmounted wheel to come off in that time. Some wheelnuts had been found to be loose in the past, but the company's system had picked them up in time.
He believed this was another example of the lost wheels mystery, as the wheelnuts could not have been loose when the vehicle left the depot, otherwise it could not have travelled the distance it did up to Merseyside and back via Stoke and Ludlow, before the wheels came off.
Defending, John Backhouse referred the magistrates to a number of similar cases. He said that in the case of Hart vs Bex in 1957, the High Court had laid down that in cases of absolute liability an absolute discharge was appropriate where a defendant was morally guiltless and had not been negligent.