DLA felt residents had a good case
16th February 1995
Page 25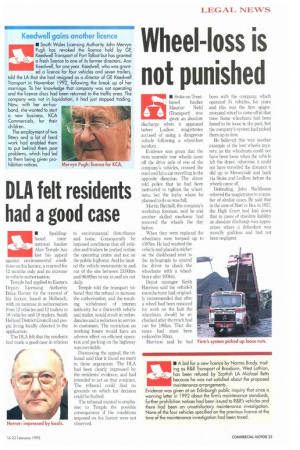 Page 25, 16th February 1995 —
DLA felt residents had a good case
Close
• Spalding based international haulier Alan Temple has lost his appeal against environmental conditions on his licence, a renewal for 12 months only and no increase in vehicle authorisation.
Temple had applied to Eastern Deputy Licensing Authority Brian Horner for the renewal of his licence, based at Holbeach, with an increase in authorisation from 12 vehicles and 12 trailers to 18 vehicles and 18 trailers. South Holland District Council and people living locally objected to the application.
The DLA felt that the residents had made a good case in relation to environmental disturbance and noise. Consequently he imposed conditions that all vehicles and trailers be parked within the operating centre and not on the public highway And he limited the vehicle movements in and out of the site between 23:00hrs and 06:00hrs to six in and six out daily.
Temple told the transport tribunal that the refusal to increase the authorisation, and the resulting withdrawal of interim authority for a thirteenth vehicle and trailer, would result in redundancies and a reduction in service to customers. The restriction on working hours would have an adverse effect on efficient operation and parking on the highway was inevitable.
Dismissing the appeal, the tribunal said that it found no merit in those arguments. The DLA had been clearly impressed by the residents' evidence, and had intended to act on that evidence. The tribunal could find no grounds on which his decision could be faulted.
The tribunal wanted to emphasise to Temple the possible consequences if the conditions imposed on his licence were not observed.