Scania returns to US?
16th February 1995
Page 20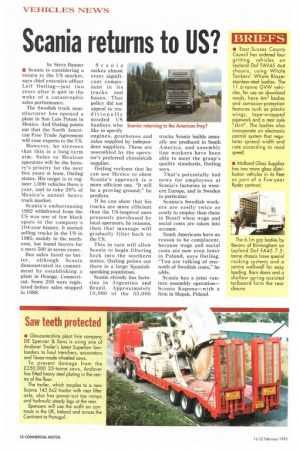 Page 20, 16th February 1995 —
Scania returns to US?
Close
by Steve Banner • Scania is considering a return to the US market, says chief executive officer Leif Ostling—just two years after it quit in the wake of a catastrophic sales performance.
The Swedish truck manufacturer has opened a plant in San Luis Potosi in Mexico. And Ostling points out that the North American Free Trade Agreement will ease exports to the US.
However, he stresses that this is a long-term aim. Sales to Mexican operators will be the factory's priority for the next five years at least, Ostling states. His target is to register 1,000 vehicles there a year, and to take 20% of Mexico's annual heavy truck market.
Scania's embarrassing 1992 withdrawal from the US was one of few black spots in the company's 104-year history. It started selling trucks in the US in 1985, mainly in the northeast, but found buyers for a mere 500 in seven years.
Bus sales fared no better, although Scania demonstrated its commitment by establishing a plant in Orange, Connecticut. Some 250 were registered before sales stopped in 1988. Scania makes almost every significant component in its trucks and buses. That policy did not appeal to traditionally minded US hauliers who like to specify engines, gearboxes and axles supplied by independent suppliers. These are assembled by the operator's preferred chassis/cab supplier.
Ostling reckons that he can use Mexico to show Scania's approach is a more efficient one. "It will be a proving ground," he predicts.
If he can show that his trucks are more efficient than the US-inspired ones presently purchased by local operators, he reasons, then that message will gradually filter back to the US.
This in turn will allow Scania to begin filtering back into the southern states. Ostling points out there is a large Spanishspeaking population.
Scania already has factories in Argentina and Brazil. Approximately 10,000 of the 35,000 trucks Scania builds annually are produced in South America, and assembly line workers have been able to meet the group's quality standards, Ostling says.
That's potentially bad news for employees at Scania's factories in western Europe, and in Sweden in particular.
Scania's Swedish workers are easily twice as costly to employ than those in Brazil when wage and social costs are taken into account.
South Americans have no reason to be complacent, because wage and social costs are now even lower in Poland, says Ostling. "You are talking of onetenth of Swedish costs," he adds.
Scania has a joint venture assembly operationScania Kapena—with a firm in Slupsk, Poland.