Hazehem checks net 76%
16th February 1995
Page 12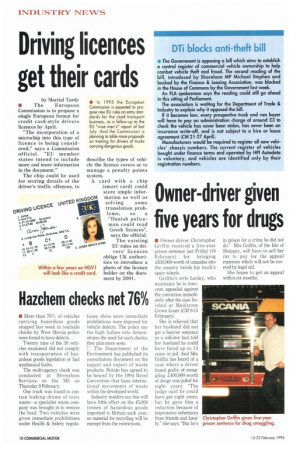 Page 12, 16th February 1995 —
Hazehem checks net 76%
Close
II More than 76% of vehicles carrying hazardous goods stopped last week in roadside checks by West Mercia police were found to have defects.
Twenty nine of the 38 vehicles examined did not comply with transportation of hazardous goods legislation or had mechanical faults.
The multi-agency check was conducted at Strensham Services on the M5 on Thursday 9 February.
One truck was found to contain leaking drums of toxic waste-----a specialist waste company was brought in to remove the load. Two vehicles were given immediate prohibitions under Health & Safety regula tions; three more immediate prohibitions were imposed for vehicle defects. The police say the high failure rate demonstrates the need for such checks; they plan more soon.
The Department of the Environment has published its consultation document on the import and export of waste products. Britain has agreed to be bound by the 1994 Basel Convention that bans international movements of waste within the developed world.
Industry insiders say this will have little effect on the 45,000 tonnes of hazardous goods imported to Britain each year, as material for recycling will be exempt from the restrictions.