FORTHCOMING EVENTS BEFORE THE COMMISSIONERS
16th February 1932
Page 62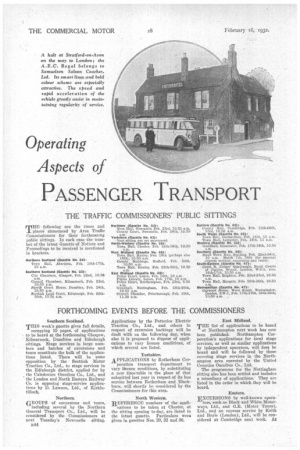 Page 63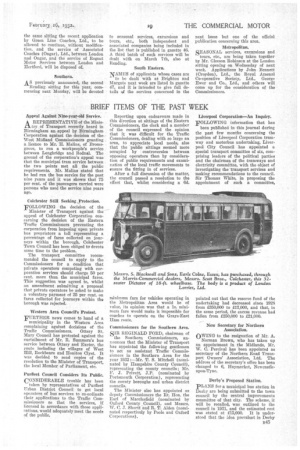 Page 62, 16th February 1932 —
FORTHCOMING EVENTS BEFORE THE COMMISSIONERS
Close
Keywords :
Southern Scotland.
THIS week's gazette gives full details, occupying 15 pages, of applications to be heard at the forthcoming Glasgow, Kilmarnock, Dumfries and Edinburgh sittings. Stage services in large numbers and batches of excursions and tours constitute the bulk of the applications listed. There will be some opposition by the Scottish Motor Traction Co., Ltd., to stage services in the Edinburgh district, applied for by the Caledonian Omnibus Co., Ltd., and the London and North Eastern Railway Co. is opposing stage-service applications by D. Lawson, Ltd., of Kirkintilloch.
Northern.
GROUPS of excursions and tours, including several by the Northern General Transport Co., Ltd., will be considered by the Commissioners at next Tuesday's Newcastle sitting.
B44 Applications by the Potteries Electric Traction Co., Ltd., and others in respect of excursion backings will be dealt with on the following day, when also it is proposed to dispose of applications to vary licence conditions, of which several are listed.
Yorkshire.
APPLICATIONS by Rotherham Cor poration transport department to vary licence conditions, by substituting a new time-table in the place of that submitted last year in respect of its bus service between Rotherham and Blackburn, will shortly be considered by the Commissioners for this area.
North Western.
REFERENCE numbers of the appli cations to be taken at Chester, at the sitting opening to-day, are listed in the latest gazette. Particulars were given in gazettes Nos. 29, 32 and 36. East Midland.
THE list of applications to be heard at Northampton next week has now been published. Northampton Corporation's applications for local stage services, as well as similar applications by independent operators, will first be heard and will be followed by those covering stage services in the Northampton area operated by the United Counties Omnibus Co., Ltd.
The programme for the Nottingham sitting also has been settled and includes a miscellany of applications. They are listed in the order in which they will be heard.
Eastern.
EXCURSIONS by well-known opera
tors, such as Black and White Motorways, Ltd., and G.B. (Motor Tours), Ltd., and an express service by Keith and Boyle (London), Ltd., will be considered at Cambridge next week. At
the same sitting the recent application by Green Line Coaches, Ltd., to be allowed to continue, without modification, and the service of Associated Coaches (Ongar), Ltd., between London and Ongar, and the service of Regent Motor Services between London and Hertford, will be disposed of.
Southern.
IS previously announced, the second Reading sitting for this year, commencing next Monday, will be devoted to seasonal services, excursions and tours, etc., both independent and associated companies being included in the list that is published in gazette 46. A third batch of such services will be dealt with on March 7th, also at Reading.
South Eastern.
NAMES of applicants whose cases are to be dealt with at Brighton and Margate next week are listed in gazette 47, and it is intended to give full details qf the services concerned in the next issue but one of the official publication concerning this area.
Metropolitan.
SEASONAL services, excursions and tours, etc., are being taken together by Mr. Gleeson Robinsert at the London sitting opening on Wednesday of next week. Applications by John Bennett (Croydon), Ltd. the Royal Arsenal Co-operative SOciety, Ltd., George Ewer and Co,, Ltd., and others will come up for the consideration of the Commissioners.