New Fast Fire-fighters for the Paris Brigade
16th February 1932
Page 54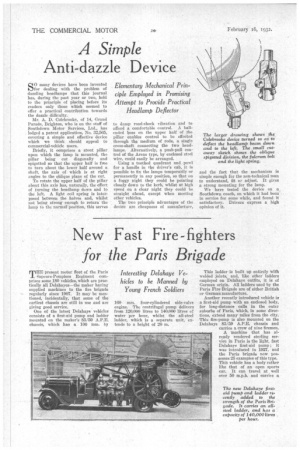 Page 55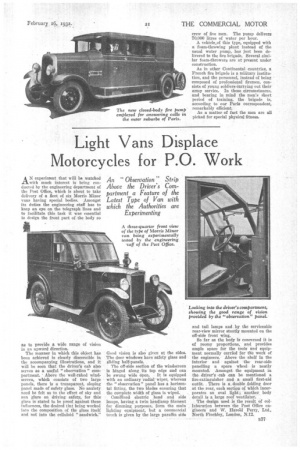 Page 54, 16th February 1932 —
New Fast Fire-fighters for the Paris Brigade
Close
Interesting Delahaye Vehicles to be Manned by Young French Soldiers
T"present motor fleet of the Paris ilapeurs-Pompiers Regiment comprises some 180 vehicles, which are practically all belahayes—the maker having supplied machines to the fire brigade regularly since 1907. It may be mentioned, incidentally, that some of the earliest chassis are still in use and are giving good service.
One of the latest Delahaye vehicles consists of a first-aid pump and ladder mounted on the maker's 83/59 A.P.E. chassis, which has a 100 mm. by
160 mm. four-cylindered side-valve engine. The centrifugal pump delivers from 120,000 litres to 140,000 litres of water per how, whilst the all-steel ladder, which is a separate unit, extends to a height of 20 tn. This ladder is built up entirely with welded joints, and, like other ladders employed on Delahaye outfits, it is of German origin. All ladders used by the Paris Fire Brigade are of either British or German manufacture.
Another recently introduced vehicle is a first-aid pump with an enclosed body, for lOng-distance calls in the outer subutrbs of Paris, which, in some directions, extend many miles from the city. This fire-pump is also mounted on the Delahaye 83/59 A.P.E. chassis and carries a crew of nine firemen.
A machine that has already rendered sterling service in Paris is the light, fast Delahaye first-aid pump; it was introduced in 1927, and the Paris brigade now Possesses 25 examples of this type. This vehicle has a body rather like that of an open sports car. It can travel at well over 50 m.p.h. and carries a
crew of five men. 'The pump delivers 70,000 litres of water per hour.
A vehicle,of this type, equipped with a foam-throwing plant instead of the usual water pump, has just been delivered to the tire brigade. Several shui-lar foam-throwers are at present under construction.
As in other Continental countries, a French fire brigade is a military institution, and the personnel, instead of being composed of professional firemen, consists of young soldiers carrying out their army service. In these circumstances, and bearing in mind the men's short period of training, the brigade is, according to our Paris correspondent, remarkably efficient.
As a matter of fact the men are all picked for special physical fitness.