LOOSE LEAVES
16th February 1932
Page 36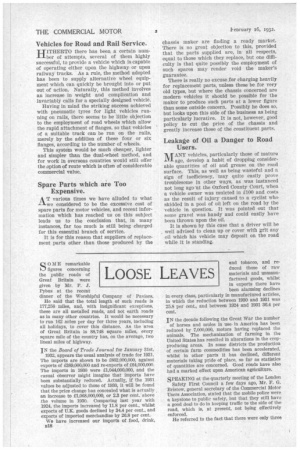 Page 37
Page 36, 16th February 1932 —
LOOSE LEAVES
Close
SOME remarkable figures concerning the public roads of Great Britain were given by Mr. P. J.
Pybus at the recent dinner of the Worshipful Company of Paviors.
He said that the total length of such roads is 177,256 miles, and, with insignificant exceptions, these are all metalled roads, and not earth roads as in many other countries. It would be necessary to run 162 miles per day for three years, including all holidays, to cover this distance. As the area of Great Britain is 88,748 square miles, every square mile of the country has, on the average, two lineal miles of highway.
IN the Board of Trade Journal for January 31st, 1932, appears the usual analysis of trade for 1931. The imports are shown to be £862,000,000, against exports of 089,000,000 and re-exports of £64,000,000. The imports in 1930 were £1,044,000,000, and the casual observer might imagine that imports have been substantially reduced. Actually, if the 1931 values be adjusted to those of 1930, it will be found that the price change has concealed what is actually an increase to 11,068,000,000, or 2.3 per cent. above the volume in 1930. Comparing last year with 1924, the imports increased by 11.8 per cent., whilst exports of U.K. goods declined by 34.4 per cent., and exports of imported merchandise by 26.8 per cent.
We have increased our imports of food, drink, n18 and tobacco, and reduced those of raw materials and unmanufactured goods, whilst in exports there have been alarming declines in every class, particularly in manufactured articles, in which the reduction between 1930 and 1931 was 25.8 per cent., and between 1924 and 1931 36.4 per cent.
IN the decade following the Great War the number of horses and mules in use in America has been reduced by 7,000,000, motors having replaced the animals. The mechanization of farming in the United States has resulted in alterations in the cropproducing areas. In some districts the production of certain farm commodities has been accelerated, whilst in other parts it has declined, different materials taking pride of place, so far as statistics of quantities are concerned. Good roads have also had a marked effect upon American agriculture.
SPEAKING at the quarterly meeting of the London Safety First Council a few days ago, Mr. F. G. Bristow, general secretary of the Commercial Motor Users Association, stated that the mobile police were a keystone to public safety, but that they still have a good deal to do in keeping traffic to the side of the road, which is, at present, not being effectively enforced.
He referred to the fact that there were only three occasions on which a motor driver was compelled to stop—when involved in an accident causing damage to any person, vehicle, or animal, at the request of a constable in uniform, and when required to do so by a constable engaged in regulating traffic or by the automatic signal which replaces him.
Mr. Bristow thought that the limitation of drivers' hours was very beneficial, but that the present low speed limit for heavy motor vehicles was actually a danger. Since the introduction of the Traffic Commissioners, there was, he said, evidence that publicservice vehicles were being kept in better condition, whilst the compulsory third-party insurance provisions were working very smoothly. AS indicative of the attitude of traders in spheres of business outside the road-transport industry, towards the intense struggle between road and rail, some observations of the Draper's Record are of interest.
". . . It would be a serious blunder," writes that journal, " to force traffic off the roads by oppressive regulations and excessive taxation. . . . The companies disclaim any intention of trying to penalize road vehicles for the benefit of the railways, but it is not easy to see on what other grounds such drastic proposals could be defended. The roads offer valuable facilities for cheap transport and must not be closed to commerce by intolerable restrictions." '