S.T.R. Enlightens Costs-confused Hauliers
16th December 1938
Page 51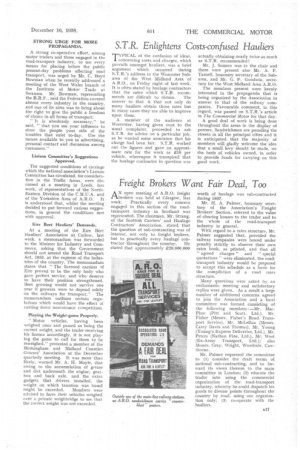 Page 51, 16th December 1938 —
S.T.R. Enlightens Costs-confused Hauliers
Close
TYPICAL of the confusion of ideas, concerning costs and charges, which prevails amongst hauliers, was a brief argument which occurred during S.T.R.'s address to the Worcester Subarea of the West Midland Area of A.R.O., on Friday night of last week. It is often stated by haulage contractors that the rates which S.T.R. recom mends are difficult to obtain. The answer to that is that not only do many hauliers obtain those rates but in many cases they are able to improve upon them.
A member of the audience at Worcester, having given vent to the usual complaint, proceeded to ask S.T.R. for advice on a particular job, as he wanted some assurance that his charge had been fair. S.T.R. worked out the figures and gave an approximate rate for the work as £10 per vehicle, whereupon it transpired that the haulage contractor in question was actually obtaining nearly twice as much as S.T.R. recommended Mr. J. Somers was in the chair and there were present also Mr. A. F. Tansell, honorary secretary of the Subarea, and Mr. G. F. Goodwin, secretary for the West Midland Area A.R.O.
The members present were keenly interested in the propaganda that is being organized by the Association in answer to that of the railway companies. Favourable comment, in this regard, was passed on S.T.R.'s article in The Commercial Motor for that day.
A good deal of work is being done throughout the areas in the display of posters. Sandwichmen are parading the streets in all the principal cities and it is anticipated that the majority of members will gladly welcome the idea that a small levy should be made, on the basis of vehicles owned, in order to provide funds for carrying on this good work.