Commer Patents Bi-directional Vehicle
16th December 1938
Page 44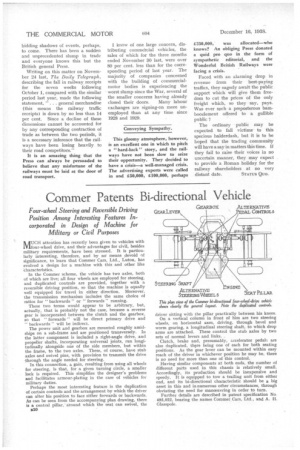 Page 44, 16th December 1938 —
Commer Patents Bi-directional Vehicle
Close
Four-wheel Steering and Reversible Driving Position Among Interesting Features Incorporated in Design of Machine for Military or Civil Purposes NAT_TcH attention has recently been given to vehicles with IV/Jour-wheel drive, and their advantages for civil, besides military requirements, have been stressed. It is particularly interesting, therefore, and by no means devoid of significance, to learn that Commer Cars, Ltd,, Luton, has evolved a design for a machine with this and other like characteristics.
In the Commer scheme, the vehicle has two axles, both of which are live; all four wheels are employed for steering, and duplicated controls are provided, together with a reversible driving position, so that the machine is equally well equipped for travel in either direction. Moreover, the transmission mechanism includes the same choice of ratios for "backwards " or " forwards" running.
These two terms would appear to be arbitrary, but, actually, that is probably not the case, because a reverse gear is incorporated between the clutch and the gearbox, so that " forwards " will be direct primary drive and " backwards" will be indirect.
The power unit and gearbox are mounted roughly amidships on a sub-frame and are positioned transversely. In the latter component is included a right-angle drive, and propeller shafts, incorporating universal joints, run longitudinally alongside one of the side members, but within the frame, to the two axles. These, of course, have stub axles and swivel pins, with provision to transmit the drive -through the angle needed for steering.
In this connection, a gain, resulting from using all wheels for steering, is that, for a given turning circle, a smaller lock is required. This simplifies the designer's problems and facilitates armour-plating in the case of vehicles for military duties.
Perhaps the most interesting feature is the duplication of certain controls and the arrangement by which the driver can alter his position to face either forwards or backwards. As can be seen from the accompanying plan drawing, there is a central pillar,• around which the seat can swivel, the
driver sitting with the pillar practically between his knees. On a vertical column in front of him are two steering wheels, on horizontal axes, driving, through bevel and worm gearing, a longitudinal steering shaft, to which drop arms are attached. These control the stub axles by two sets of normal levers and links.
Clutch, brake and, presumably, accelerator pedal are also duplicated, there being one of each for both seating positions. As the gear lever can be mounted within easy reach of the driver in whichever position he may be, there is no need for more than one of this control.
Having similar components at both ends, the number of different parts used in this chassis is relatively small. Accordingly, its production should be inexpensive and speedy. It is equipped to tow a trailing unit from either end, and its bi-directional characteristic should be a big asset in this and in numerous other circumstances, through obviating the need for manoeuvring in order to turn.
Further details are described in patent specification No 495,022, bearing the names Commer Cars, Ltd., and A. H. Glasspole.