PERSONAL PARS.
16th December 1938
Page 39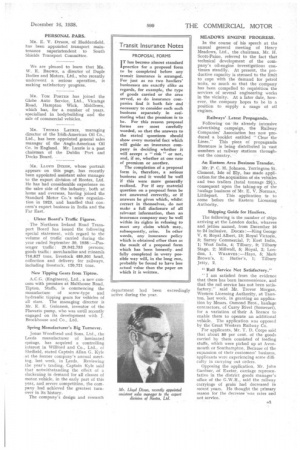 Page 39, 16th December 1938 —
PERSONAL PARS.
Close
MR. E. V. Dvsosi, of Huddersfield, has been appointed transport maintenance superintendent to South Shields Transport Committee.
We are pleased to learn that Ma. W. E. BROWN, a director of Duple Bodies and Motors, Ltd., who recently underwent a serious operation, is making satisfactory progress.
MR. Tom PORTER has joined the Globe Auto Service, Ltd., Vicarage Road, Hampton Wick, Middlesex, which has, for a number of years, specialized in bodybuilding and the sale of commercial vehicles.
MR. THOMAS LAURIE, -managing director of the Irish-American Oil Co., Ltd., has been appointed general sales manager of the Anglo-American Oil Co. in England. Mr. Laurie is a past chairman of the Dublin Port and Docks Board.
Ma. LLOYD DIXON, whose portrait appears on this page, has recently been appointed assistant sales manager to the export division of Rootes, Ltd. He has had considerable experience on the sales side of the industry, both at home and overseas, having joined the Standard Motor Co.'s sales organization in 1923, and handled •that concern's export business in India and the Far East.
Ulster Board's Traffic Figures.
The Northern Ireland Road Transport Board has issued the following special statement, with regard to the volume of traffic. carried during the year ended September 30, 1938:—Passenger traffic : 29,042,753 persons; goods traffic: merchandise and minerals 716,827 tons, livestock 489,501 head, collection and delivery for railways, including livestock, 120,721 tons.
New Tipping Gears from Tipton.
A.C.G. (Engineers), Ltd., a new concern with premises at Malthouse Road, Tipton, Staffs, is commencing the manufacture of screw-type and hydraulic tipping gears for vehicles of all sizes. The managing director is Mr. E. E. GuinnesS, inventor of the Fluvario pump, vsho was until recently engaged on its development with j. Brockhouse and Co., Ltd.
Spring Manufacturer's Big Turnover.
Jonas Woodhead and Sons, Ltd., the Leeds manufacturer of laminated springs, has acquired a controlling interest in Willford and Co., Ltd., of Sheffield, stated Captain Allan G. Kyle at the former company's annual meeting, last week, in Leeds. Reviewing the year's trading, Captain Kyle said that notwithstanding the effect of a slackening in demand for all classes •of motor.vehicle, in the early part of this year, and severe competition, the company had achieved the greatest turnover in its history.
The company's design and research MEADOWS ENGINE PROGRESS.
In the course of his speech at the annual general meeting of Henry Meadows, Ltd., the chairman, Mr. H. Scott-Paine, referred to the fact that technical development of the company's oil-engine investigations continues steadily. At present, the productive capacity is stressed to the limit to cope with the demand for petrol units, so much so that the company has been compelled to requisition the services of several engineering works in the vicinity. At a later date, however, the company hopes to be in a position to supply a range of oil engines.
Railways' Latest Propaganda.
Following on its already intensive advertising campaign, the Railway Companies' Association has now pro&Iced a booklet entitled " Clear the Lines." This piece of propaganda literature is being dish-ibuted in vast mimbers at railway stations throughout the country.
An Eastern Area Business Transfer.
Mr.' P. c. H. Johnson, Terrington St. Clement, Isle of Ely, has made application.for the acquisition of six vehicles and two trailers (total tonnage 29), consequent upon the taking-up of the haulage business of Mr. E. V. Norman,
Littleport. This application 'is to come before the Eastern Licensing Authority.
Shipping Guide for liau1ier4.
The following is the number of ships arriving at the London docks, wharves and jetties named, from December 16 to 24 inclusive. Docics :—.King George V. 6; Royal Albert, 18; Royal Victoria, 3; Surrey Commercial, 7; East India, '1; West India, 4; Tilbury, 9; Tilbury Stage, 2; Millwall, 5; Royal, 2; London, 1. WHARVES : —Hays, 5; Mark Brown's, 1; Butler's, 1; Tilbury Jetty, 2.
"'Rail Service Not Satisfactory."
" I am satisfied from the evidence that there has been inconvenience, and that the rail service has not been satisfactory," said Mr. Trevor Morgan, Western Licensing Authority, at Taunton, last week, in granting an application by Messrs. Osmond Bros., haulage contractors, of Curry Rivet (Somerset), for a variation of their A licence to enable them to operate an additional vehicle. The application was opposed by the'Great Western Railway Co.
For applicants, Mr. T, D. Corpe said that about 80 per cent. of -the goods carried by them consisted of feeding stuffs, which were picked up at Avonmouth or Southampton. Because of the expansion of their customers' business, applicants were experiencing some diffi culty in carrying out orders.
Opposing the application, Mr. John Gardner, of Exeter, carriage representative in the district goods manager's office of the G.W.R., said the railway carryings of grain had decreased in receni years. He thought the primary reason for the decrease 'was rates and not service.
Tags
People
:
John Gardner
,
Royal Victoria
,
THOMAS LAURIE
,
Millwall
,
Allan G. Kyle
,
Royal Albert
,
Curry Rivet (Somerset)
,
George V
,
Huddersfield
,
LLOYD DIXON
,
Trevor Morgan
,
E. V. Norman
,
E. V. Dvsosi
,
Tilbury Stage
,
Exeter
,
Mark Brown
,
H. Scott-Paine
,
W. E. BROWN