ONE HEARS
16th December 1924
Page 3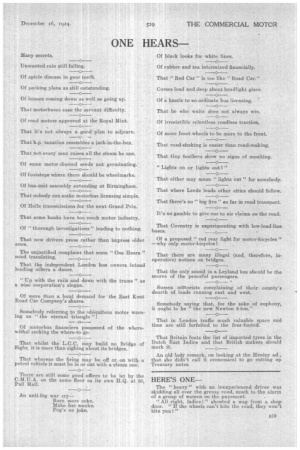 Page 3, 16th December 1924 —
ONE HEARS
Close
Many secrets.
Unwanted rain still falling.
Of apicle disease in gear teeth Of parking plans as still outstanding.
Of houses coming down as well as going up.
That motorbuses ease the servant difficulty.
Of road motors approved at the Royal Mint. That it's not always a good plan to adjourn.
That h.p. taxation resembles a jack-in-the-box.
That not every man raises all the steam he can.
Of some motor-discord seeds not germinating.
Of footsteps where there should be wheelinarks.
Of bus-unit assembly extending at Birmingham.
That nobody can make motorbus licensing simple.
Of Holle transmissions for the next Grand Prix.
That some banks have too much motor industry.
Of " thorough investigations " leading to nothing.
That new drivers press rather than impress older ones.
The unjustified complaint that some "One Hears" need translating. 0 That the independent London bus owners intend leading others a dance.
"Up with the rails and down with the trains" as a wise corporation's slogan.
Of more than a local demand for the East Kent Road Car Company's shares.
Somebody referring to the ubiquitous motor warning as "the eternal triangle"!
Of motorbus financiers possessed of the wherewithal seeking the where-to-go That whilst the L.C.C. may build no Bridge of Sighs, it is more than sighing about its bridges.
That whereas the firing may be off or Ori with a petrol vehicle it must be in or out with a steam one.
There are still some good offices to be let by the C.M.U.A. on the same floor as its own H.Q. at 50, Pall Mall.
An anti-fog war cry- Burn more coke.
Make less smoke..
Fog's no joke. Of black looks for white lines.
Of rubber and tea intermixed financially. That "Red Car" is too like "Road Car."
Curses loud and deep about headlight glare.
Of a hustle to co-ordinate bus licensing.
That he who waits does not always win. Of irresistible relentless roadless traction.
Of more front wheels to be more to the front, That road-shaking is easier than road-making.
That Guy feathers show no signs of moulting.
" Lights on or lights out ? "
That either may mean "lights out" for somebody.
That where Leeds leads other cities should follow.
That there's no "big five" so far in road transport.
It's no gamble to give ear to air claims on the road.
That Coventry is experimenting with low-load-line buses. 0 — Of a proposed " red rear light for motor-bicycles" —why only motor-bicycles'?
That there are many illegal (and, therefore, inoperative) notices on bridges.
That the only sound in a Leyland bus should be the snores of the peaceful passengers.
Sussex mztorists complaining of their county's dearth of loads running east and west.
Somebody saying that, for the sake of euphony, it ought to be the new Newton 2-ton."
• That in London traffic much valuable space and time are still forfeited to the four-footed.
That Britain foots the list of imported tyres in the Dutch East Indies and that British makers should mark it.
An old lady remark, on looking at the Henley ad., that she didn't call it economical to go cutting up Treasury notes.