OPINIONS FROM OTHERS._
16th December 1924
Page 27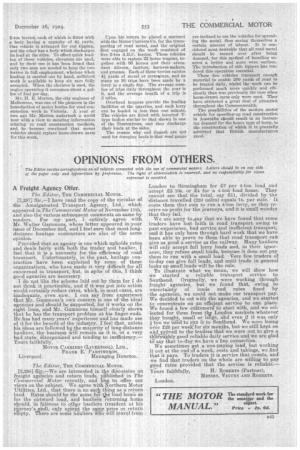 Page 27, 16th December 1924 —
OPINIONS FROM OTHERS._
Close
The Editor invites correspondence on all subjects connected with the use of commercial motors. Letters should be on one side of the paper only and tipewritten by preference. The right of abbreviation is resented, and no resPonsibility for views
expressed is accePted.
A Freight Agency Offer.
The Editor, THE COMMERCIAL MOTOR.
[2,297j Sir,—I have read the copy of the circular of the Amalgamated Transport Agency, Ltd., which appeared in The Commercial Motor of November 11th, and also the various subsequent comments on same by readers. For my part, I entirely agree with Mr. Walter Gammons, whose letter appeared in your issue of December 2nd, and I feel sure that most longdistance haulage contractors are also of the same opinion.
• Provided that an agency is one which upholds rates and deals fairly with both the trader and haulier, I feel that it is a necessity for the efficiency of road transport. Unfortunately, in the past, haulage contractors have been exploited by some of these organizations, who have made it very difficult for all concerned in transport, but, in spite of this, I think good agencies are necessary.
• I do not like the scheme laid out by them for I do not think it practicable, and if it was put into action would certainly reduce rates, which, in most cases, are inadequate, even now. I can say from experience that Mr. Gammons's own concern is one of the ideal agencies and should be supported, for it works on the right lines, and Mr. Gammons himself clearly shows that he has the transport problem at his finger-ends. He has had many years' experience and has made use of it for the benefit of the industry. I feel that, unless his ideas are followed in the majority of long-distance hauliers, the business will remain as it is, in a very bad state, disorganized and tending to inefficiency.— Yours faithfully,
MoTou CARRIERS (LIVERPOOL), LTD., FRANK E. PARTINGTON, Liverpool. Managing Director.
The Editor, THE COMMERCIAL MOTOR.
[2,298] Sir,—We are interested in the discussion on freight agencies and return loads, pUblished in The Commeretal Motor recently, and beg to offer our views on the subject. We agree with Northern Motor Utilities, Ltd. that there is no such thing as a return load. Rates should be the same for the load home as for the outward load, and haulieis returning home should, in fairness to other hauliers (resident at his jo:urney's ,end), cu.:0y accept the same price or return empty. There are some hauliers ;Iro will travel from
London to Birmingham for 27 per 4-ton load and accept 23 Ws. or 24 for a 4-ton load home. They cannot see that the total, say £11, divided by the distance travelled (220 miles) equals is. per mile. It costs them that sum to run a 4-ton lorry, so they receive no profit for the journeys, and it is small wonder that they fail. We are sorry to say that we have found that some traders have lost faith in road transport owing to past experience, bad service and inefficient transport, and it has only been through hard work that we have been able to prove to them that road transport can
give as good a service as the railway. Many hauliers•will only accept full lorry loads and, in their ignor ance, they refuse small loads, because it does not pay them to run with a-small load. Very few traders of to-day can give full loads, and until trade in general looks up small loads will be the rule.
To illustrate what we mean, we will Stow how we started a reliable transport service to Southend. Originally', we were working through freight agencies, but we found that, owing to uncertainty of loads and rates fixed by
• the agencies, we could not make our transport pay. We decided to cut with the agencies, and we started to concentrate on an efficient service to one place. We found a few cuitomeigto start with, and we collected for them from the London markets whatever they bought, small or large, and even if it was only ten 'we ured torte it to Southend. We were losing over £20 per week for six months, but we still kept on and,p1Oved to the traders that we were out to give a thlYrou'ghly good reliable daily service and we are glad t& say that to-day we have a fine connection. We sometimes get a non-paying load, but working it out at the end of a week, costs and takings, we find that it pays. To traders it is service that counts, and' we find that traders on the whole are willing to pay
good rates provided that the service is reliable.— ,
Yours faithfupy, H.ROBERTS (Partner),
MESSRS. VICTIMS AND ROBERTS.
London.