THE TRANSPORT OF TABLE DELICACIES.
16th December 1924
Page 12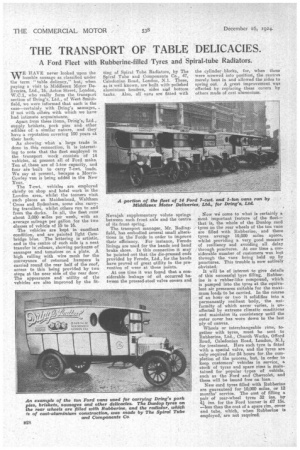 Page 12, 16th December 1924 —
THE TRANSPORT OF TABLE DELICACIES.
Close
A Ford Fleet with Rubberine-filled Tyres and -Spiral-tube Radiators.
WE HAVE never looked upon the humble sausage as classified under the term "table delicacy," but, when paying a visit to Middlesex Motor Deliveries, Ltd., 16, Acton Street, London, W.C.1, who really form the transport section of Dring's, Ltd., of West Smithfield, we were informed that such is the case—certainly with Dring's sausages, if not with others with which we have had intimate acquaintance.
Apart from these items, Dring's, Ltd., supply briskets, pork pies and other edibles of a similar nature, and they have a reputation covering 100 years at their back.
As showing what a large trade is done in this connection, it is interesting to note that the fleet employed in the transport work consists of 14 vehicles, at present all of Ford make. Ten of, these are of .1.ton capacity, and four are built to carry 7-cwt. loads. We say at. present, because a, Morris. Cowley van is being addea in the New Year.
The 7-cwt, vehicles are em?loyed chiefly on shop and hotel work in the London area, whilst the tonners visit such places as Maidenhead, Waltham Cross and Sydenham, some also carrying travellers, whilst others run to and from the docks. In all, the fleet runs about 3,000 voiles per week, with an average mileage per gallon for the two classes of vehicle of 15 to 16.
The vehicles are kept in excellent condition, and are painted light Cambridge blue. The lettering is artistic, and in the centre of each side is a neat transfer in colours, showing packages of sausages and tomatoes on a plate. A high railing with wire mesh for the conveyance of returned hampers is carried round the rear half of the roof, access to this being provided by two steps at the near side of the rear door. The appearance and utility of the vehicles are also improved by the fit. ting of Spiral Tube Radiators, by The Spiral Tube and Components Co., 47, Caledonian Road, London, Ni. These, as is well known, are built with polished aluminium headers, sides and bottom tanks. Also, all vans are fitted with Nevajah supplementary volute springs between each front axle and the centre of its front spring.
The transport manager, Mr. Bodingfield, has embodied Several small alterations in the Fords in order to improve their efficiency. For instance, Ferodo linings are used for the bands and hand brake shoes. In this connection it may be pointed out that the die-pressed ends provided by Ferodo, Ltd., for the bands have proved of great utility in the prevention of wear at these points.
At one time it was found that a considerable leakage of oil occurred between the pressed-steel valve covers and the cylinder blocks, for, when these were screwed into position. the centres merely bent in and allowed the sides to spring out. A great improvement was effected by replacing these covers by others made of cast aluminium.
, Now we' come to what is certainly a most important feature of the fleet-that is, the whole of the Dunlop cord
tyres on the rear wheels of the ton vans are filled with Rubberine, and these tyres average 19,000 miles apiece, whilst providing a very good measure of resiliency and avoiding all delay through punctures. At one time a considerable number of customers was 1st through the vans being held up by punctures. This trouble is DOW entirely obviated;
It will be of interest to give details of this successful tyre filling. Rubberme is a rubber-like compound, which is pumped into the tyres at the equivalent air pressures suitable for the maximum loads to be carried. In the course of an hour or two it solidifies into a permanently resilient body, the uniformity of which never varies, is unaffected by extreme climatic conditions and maintaint its consistency until the outer cover has worn down to the last ply of canvas.
Wheels or interchangeable rims, together with tyres, must be sent to Rubberine, Ltd., Church Works, Offord Road, Caledonian Road, London, N.1, for treatment. Here each tyre is fitted with a special valve, and the tyres are only required for 24 hours for the completion of the process, but, in order to keep customers' vehicles in service, a stock of tyres and spare rims is maintained for popular types of vehicle, such as the Ford and Chevrolet, and these will be issued free on loan.
New cord tyres filled with Rubberine are guaranteed for 10,000 miles, or 12 months' service. The cost of filling a pair of rear.wbeel tyres 32 ins. by 41 ins. for the Ford tonner is 27 15s. .-leas than the cast of a spare rim, cover and tube, which, when Rubberine is employed, are not required.