One Hears
16th December 1915
Page 3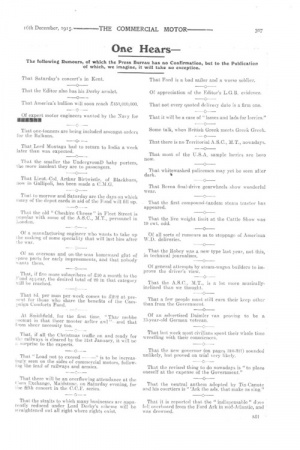 Page 3, 16th December 1915 —
One Hears
Close
The following Rumours, of which the Press Bureau has no Confirmation, but to the Publication of which, we imagine, it will take no exception.
That Saturday's concert's in Kent.
That the Editor also has his Derby armlet.
That America's bullion will soon reach 2450,000,000.
Of expert motor engineers wanted by the Navy for 111111111111111111 That one-tanners are being included amongst orders for the Balkans.
That Lord Montagu had to return to India a week later than was expected.
That the smaller the UndergrounD baby porters, tile more insolent they are to passengers.
That Lieut.-Col. Arthur Birtavistle, of Blackburn, now in Gallipoli, has been made a C.M.G.
That to-morrow and Saturday are the days on which many of the depot cards in aid of the Fund will fill up.
That the old " Cheshire Cheese" in Fleet Street is popular with some of the A.S.C., M.T., personnel in London.
Of a manufacturing engineer who wants to take up the making of some speciality that will last him after the war.
Of an overseas and on-the-seas homeward glut of spare parts for early impressments, and that nobody ,ants them.
That, if five more subscribers of £10 a month to the J''und appear, the desired total of 20 in that category will be reached.
That id. per man per -week comes to 292 at present for those who share the benefits of the Campaign Comforts Fund.
At Smithfield, for the first time "Thai' mebbe toomat in that theer mooter arfter awl"– and that from sheer necessity too.
That, if all the Christmas traffic on and ready for railways is cleared by the :31st January, it will be surprise to the experts.
Thai "Load not to exceed —" is to he increas ingly seen on the sides of commercial motors, following the lead of railways and armies.
That there will be an overflowing attendance at the Corn Exchange, Maidstone. on Saturday evening, for the fifth concert in the C.C.F. series.
That the straits to which many businesses are apparently reduced under Lord Derby's scheme will be straightened out all right where rights exist. That Ford is a bad sailor and a worse soldier.
Of appreciation of the Editor's L.G.B. evidence.
That not every quoted delivery date is a firm one.
That it will be a case of " lasses and laeds-Icta. lorries."
Some talk, when British Greek meets Greek Greek.
That there is no Territorial A.S.C., M.T., nowadays.
That most of the U.S.A. sample lorries are hero now.
That whitewashed policemen may yet be seen after dark.
That Be-ma final-drive gearwheels show wonderful wear.
That the first compound-tandem steam tractor has appeared.
That the live weight limit at the Cattle Show was lb cwt. odd.
Of all sorts of rumours as to stoppage of American %T D. deliveries.
Thatthe itobey was a new type last year, not this, • in technical journalism.
Of general attempts by steam-wagon builders to improve the driver's view.
That the A.S.C.,M.T., is a lot more musicallyinclined than we thought-.
That a few people must still earn their keep other • than from the Government.
Of an advertised Daimler van proving to be a 13-year-old German veteran.
That last week most civilians spent their whole time wrestling with their conseiences.
. That the new governor (on pages a10-30) sounded unlikely, but proved on trial very likely.
That the revised titling to do nowadays is "to place oneself at the expense of the Government."
That the neutral anthem adopted by Tin-Canute . and his courtiers is "'Ark the ads, that make us sing."
That itis reported that the " indispensable " clyve fell overboard from the Ford Ark in mid-Atlantic, and was drowned.