West Riding Enterprise.
16th December 1915
Page 14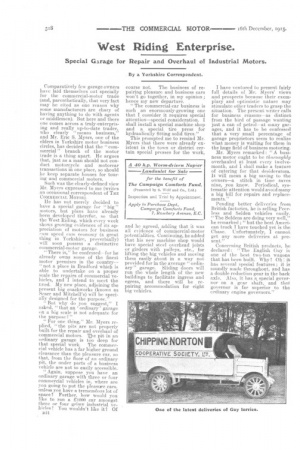 Page 14, 16th December 1915 —
West Riding Enterprise.
Close
Special Garage for Repair and Overhaul of Industrial Motors.
By a Yorkshire Correspondent.
Comparatively few garage owners have laid themselves out specially for the commercial-motor trade (and, parenthetically, that very fact may be cited as one reason why some manufacturers are chary of having anything to do with agents or middlemen). But here and there one conies across a truly-enterprising and really up-to-date trader, who clearly " means business," and Mr. Eric S. Myers, one of the elders in Yorkshire motor business circles, has decided that the " commercial " branch of the motor trade is a thing apart. He argues that, just as a man should not conduct motorcycle and motorcar transactions in one place, so should he keep separate houses for touring and commercial motors.
Such was the clearly-defined view Mr. Myers expressed to me (writes an occasional correspondent of TIIE COMMERCIAL MOTOR).
Ile has not merely decided to have a special garage for " big" motors but plans have already been developed therefor, so that the West Riding, which every week shows growing evidences of its appreciation of motors for business 'win. speed CUM economy (a great thing in Yorkshire, proverbially) will soon possess a distinctive commercial-motor garage.
"There is," he confessed—for he already owns some of the finest motor premises in the country" not a place in Bradford which is able to undertake on a proper scale the repairs of commercial vehicles, and I intend to meet the need. My new place, adjoining the present big coachworks (known as Searr and Mitchell's) will be specially designed for the purpose." "But why do you suggest," I asked, "that an ' ordinary ' garage on a big scale is not adequate for he purpose?"
"For one thing," Mr. Myers replied, "the pits are not properly built for the repair and overhaul of commercial motors. the pit in an ordinary garage is too deep for that special work. The commercial vehicle has a far higher ground clearance than the pleasure car, so that, from the floor of an ordinary pit, the under parts of a business vehicle are not so easily accessible.
" Again, suppose you have an ordinary garage with three or four commercial vehicles in, where are you going to put the pleasure ears, unless you have a tremenRoos lot of space ? Further, how would you like to run a R1000 car amongst three or four grimy industrial vehicles? You wouldn't like it? Of
n44
course not. The business of repairing pleasure and business cars won't go together, in my opinion ; hence my new departure. "The commercial-car business is such an enormously-growing one that I consider it requires special attention—special consideration. I shall install a special machine shop and a special tire press for hydraulically fitting solid tires."
This prompted me to remind Mr. Myers that there were already existent in the town or district certain special presses for the work, and he agreed, adding that it was all evidence of commercial-motor potentialities. Continuing, he added that his now machine shop would have special steel overhead joists or girders with pulleys, etc., for lifting the big vehicles and moving them easily about in a way not provided for in the average "ordinary" garage. Sliding doors will run the whole length of the new buildings to facilitate ingress and egress, and there will berepairing accommodation for eight big vehicles. I have ventured to present fairly full details of Mr. Myers' views and prospects because their exemplary and optimistic nature may stimulate other traders to grasp the situation. The present-writer calls for business reasons—as distinct from the bird of passage wanting just a can of petrol—at many garages, and it has to be confessed that a very small percentage of garage proprietors seem to realize what money is waiting for them in the huge field of business motoring.
Mr. Myers remarked : "A business motor ought to be thoroughly overhauled at least every twelvemonth, and I shall make a feature of catering for that desideratum. it will mean a big saving to the owners—a stitch in time saves nine, you know. Periodical, systematic attention would avoid ninny a big bill for repairs and replacements."
Pending better deliveries from British factories, he is selling Peerless and Selden vehicles easily. "The Seldens are doing very well," he remarked; "but the best American truck I have touched yet is the Chase. -Unfortunately, I cannot get any more deliveries at present."
Concerning British products, he declared : "The English Guy is one of the best two-ton wagons that has been built. Why ? Oh it has several special features ; it is soundly made throughout, and has a double reduction gear in the back axle. Also, it. has St special governor on a gear shaft, and that governor is far superior to the ordinary engine governors."