Growing network
16th August 2012
Page 38
Page 39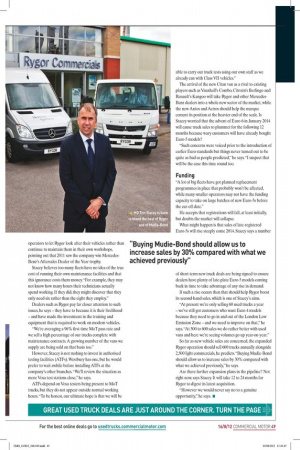 Page 38, 16th August 2012 —
Growing network
Close
Tim Stacey, the MD of Mercedes-Benz dealer Rygor Commercials, explains the decision to buy fellow franchisee Mudie-Bond
Words: Steve Banner The decision by Westbury, Wiltshire-based Rygor to acquire fellow Mercedes-Benz dealership Mudie-Bond makes sound business sense, says Rygor Commercials MD Tim Stacey.
"We were looking to expand and we wanted to expand within the Mercedes-Benz network," he says. "We understand Mercedes, they understand us and expansion within the network gives us better economies of scale.
"Mudie-Bond's area of responsibility was immediately adjacent to our own and means we're now in a position to serve customers along the M5 and M40 as well as the M4. In geographical terms it should work really well." Set up in 1987 by Mike Mudie and Richard Bond, both of whom retained their major shareholdings in the business until it was sold for an undisclosed sum a few weeks back, Mudie-Bond had its headquarters at Tewkesbury in Gloucestershire. It also operated depots at Kidderminster in Worcestershire, Brackley in Northamptonshire, and Oxford.
Taking on all four outlets and the irm's 133-strong workforce means Rygor Commercials now has 19 locations, including branches in Reading, Swindon, Salisbury and Heathrow. They include six workshops run on behalf of Brakes Group, one on behalf of Tesco, and one on behalf of Airsprung Beds.
"What it also means is that we now have no less than 200 technicians available and can move them from one site to another depending on how busy each site is," says Stacey.
Rygor secured funding from the corporate team at bankers Barclays South West in Bristol and the takeover will lead to the Mudie-Bond name disappearing, despite its undoubted strength.
One culture
"We want to concentrate on promoting one brand when it comes to, for example, the website and we don't want to risk being in a situation where we've got two cultures within the same company," Stacey says. "Instead, we want to take the best of Rygor and the best of Mudie-Bond and blend them together." The result will be an even greater focus on customer service. Stacey is determined to convince more and more operators to let Rygor look after their vehicles rather than continue to maintain them in their own workshops, pointing out that 2011 saw the company win MercedesBenz's Aftersales Dealer of the Year trophy.
Stacey believes too many leets have no idea of the true cost of running their own maintenance facilities and that this ignorance costs them money. "For example, they may not know how many hours their technicians actually spend working. If they did, they might discover that they only need six rather than the eight they employ." Dealers such as Rygor pay far closer attention to such issues, he says – they have to because it is their livelihood – and have made the investment in the training and equipment that is required to work on modern vehicles.
"We're averaging a 96% frst-time MoT pass rate and we sell a high percentage of our trucks complete with maintenance contracts. A growing number of the vans we supply are being sold on that basis too." However, Stacey is not rushing to invest in authorised testing facilities (ATFs). Westbury has one, but he would prefer to wait awhile before installing ATFs at the company's other branches. "We'll review the situation as more Vosa test stations close," he says.
ATFs depend on Vosa testers being present to MoT trucks, but they do not appear outside normal working hours. "To be honest, our ultimate hope is that we will be able to carry out truck tests using our own staff as we already can with Class VII vehicles." The arrival of the new Citan van as a rival to existing players such as Vauxhall's Combo, Citroën's Berlingo and Renault's Kangoo will take Rygor and other MercedesBenz dealers into a whole new sector of the market, while the new Antos and Actros should help the marque cement its position at the heavier end of the scale. Is Stacey worried that the advent of Euro-6 in January 2014 will cause truck sales to plummet for the following 12 months because wary customers will have already bought Euro-5 models?
"Such concerns were voiced prior to the introduction of earlier Euro standards but things never turned out to be quite as bad as people predicted," he says. "I suspect that will be the case this time round too.
Funding
"A lot of big leets have got planned replacement programmes in place that probably won't be affected, while many smaller operators may not have the funding capacity to take on large batches of new Euro-5s before the cut-off date." He accepts that registrations will fall, at least initially, but doubts the market will collapse.
What might happen is that sales of late-registered Euro-5s will rise steeply come 2014. Stacey says a number of short-term new truck deals are being signed to ensure dealers have plenty of late-plate Euro-5 models coming back in time to take advantage of any rise in demand.
If such a rise occurs then that should help Rygor boost its second-hand sales, which is one of Stacey's aims.
"At present we're only selling 60 used trucks a year – we've still got customers who want Euro-4 models because they need to go in and out of the London Low Emission Zone – and we need to improve on that," he says. "At 500 to 600 sales we do rather better with used vans and here we're seeing volumes go up year-on-year." So far as new vehicle sales are concerned, the expanded Rygor operation should sell 600 trucks annually alongside 2,500 light commercials, he predicts. "Buying Mudie-Bond should allow us to increase sales by 30% compared with what we achieved previously," he says.
Are there further expansion plans in the pipeline? Not right now, says Stacey. It will take 12 to 24 months for Rygor to digest its latest acquisition.
"However we would never say no to a genuine opportunity," he says. n