Raising the Flag
16th August 1957
Page 49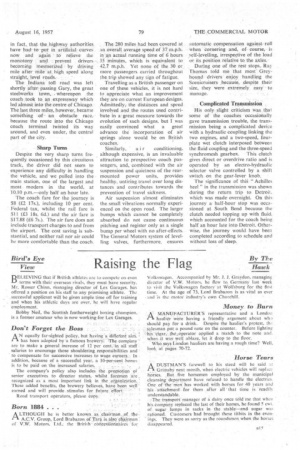 Page 49, 16th August 1957 —
Raising the Flag
Close
Bird's Eye View By The Hawk
BEILIEVING that if British athletes are to compete on even .1--; terms with their overseas rivals, they must have security, Mr. Rosser Chinn, managing director of Lex Garages. has offered a position on his staff to any promising athlete. The successful applicant will be given ample time off for training and when his athletic days are over, he will have regular employment.
Bobby Neil, the Scottish featherweight boxing champion. is a former amateur who is now working for Lex Garages.
Don't Forget the Boss AN equally far-sighted policy, but haVing.a different aim. has been adopted by 'a famous breWery",--The eomp-any are to make a general increase of 12 per centrin all staff : salaries to encourage those shouldering responsibilities and to compensate fot successive increases to wage earners. -In addition, because of a successful year, a l0-percent bonus is to he paid on the increased salaries.
The company's policy also includes the :prontotion senior executives to director status, whilst fOremen arc. recognized as a most important link in the organization" These added benefits, the brewery believes, have been well' earned and will provide .stimulus for future 'effort: Road transport operators, please Copy. •
Born 1884. . .
LTHOUGH he is better known as _chairman ,of the 1-1 A .C.V. Group, Lord Brabazon of Tara is. also chairman . of V.W. Motors, Ltd" the British ebiicesSionnaircs for_ Volkswauen. Accompanied by Mr. 3. 3. GraYdon, managing director of V.W. Motors, he flew to,. Germany last: week to visit the Volkswagen factory at Wolfsburg for the first time. At the age of 734 Lord Brabazon is as vital as ever
• and is the motor industry's own Churchill.
Money to _Burn
A MANUFACTURER'S representative and a London Pl. haulier wCie haying a friendly argument about wly.1 should pa Y for a drink. Despite the haulieCs protest, th.! salesman put a pound note on the counter. Before lighting '1•14.5.7elgar,:•the.)operatot applied a Match -to the note and. when-it was' well ablaze, let it drop to the floor.
Who,.says London hauliers are having a rough time? Well, look at pages 70-72.
Horse Tears.
ADUSTMAN'S farewell to his steed will be said ,,.OriinsbY next month, when electric vehicles will horses. But five horsemen employed by the municipal cleansing department have refused. to handle the electrics. One of-Ac-meril has worked with horses for 40 years and his attachment • for them after all . that time is readily understandable.
The: transportManager of a dairy once told me that when his Company replaced the last of their horses, he found-5 cwt. of—sugar lumps in sacks in the stable—and sugar was rationed. Customers had brought these titbits in the evenings. They were as sorry as the rounclsmen when the horses disappeared.