Pickfords 'Haul Big Loads to. Olympia THREE of the largest
16th August 1957
Page 35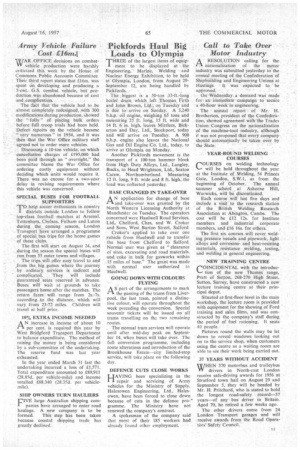 Page 35, 16th August 1957 —
Pickfords 'Haul Big Loads to. Olympia THREE of the largest
Close
items of equip' ment " to ...be displayed at • the Engineering, Marine, " Welding. and Nuclear Energy Exhibition, to be held Olympia, London, from August 29September . 12, are being handled by Pickfords.
The ,,biggest. is a 50-ton 33-ft.-long boiler drum which. left jhomas. Firth and John Brown, Ltd.,on Tuesday and is due to arrive on Sunday. A 3,240 b.h,p. oil engine, weighing 65 tons and measuring 25 ft. long-, 15 ft. wide and
14 ft. 6 in. high, leaves Mirrlees, Bickerton and Day, Ltd., Stockport; today and will arrive on Tuesday. A 900 b.h.p. engine also leaves the National Gas and Oil Engine to. Ltd., today, to arrive at Olympia on Monday.
Another Pickfords movement is the transport of a 100-ton hammer block from High Duty Alloys, Ltd" Langley, Bucks, to Head Wrightson, Ltd., Seaton Carew, Northumberland. Measuring .12 ft. long, 9 ft. wide and 8 ft. high, the load was collected yesterday.