Men in the News
16th August 1957
Page 34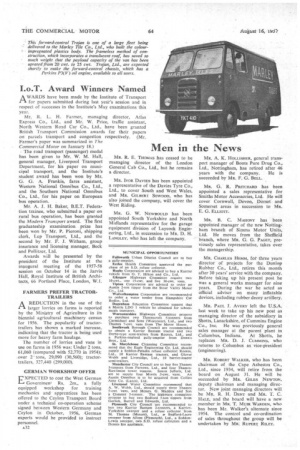 Page 34, 16th August 1957 —
Men in the News
Close
MR. R. E. THOMAS has ceased to be managing director of the London General Cab Co., Ltd., but he remains a director.
MR. IVOR DAVIES has been appointed a representative of the Davies Tyre Co., Ltd., to cover South and West Wales, and MR. GILBERT Sow000, who has also joined the company, will cover the West Riding.
Ma. G. W. NEWBOULD has been appointed South Yorkshire and North Midlands representative for the garage equipment division of Laycock Engineering, Ltd., in succession to MR. D. H. LANGLEY, who has left the company.
MR. A. K. HOLLISHER, general transport manager of Boots Pure Drug Co., Ltd., Nottingham, has retired after 46 years with the company. He is succeeded by MR. F. G. BELL.
MR. G. R. PRITCHARD has been appointed a sales representative for Smiths Motor Accessories, Ltd. He will cover Cornwall, Devon, Dorset and Somerset areas in succession to MR. E. G. ELLIOTT.
MR. B. C. M AHONY has been appointed manager of the new Nottingham branch of Simms Motor Units, Ltd. He moves from the Sheffield branch, where MR. G. G. PAGET, previously sales representative, takes over the managership.
MR. CHARLES HEMM, for three years director of projects for the Dunlop Rubber Co., Ltd., retires this month after 30 years' service with the company. Before taking up his present post he was a general works manager for nine years. During the war he acted as official adviser on many inflatable devices, including rubber decoy artillery.
Mn. PAUL 1. AVERY left the U.S.A. last week to take up his new post as managing director of the subsidiary in Shotts, Lanarkshire, of Cummins Engine Co., Inc. He was previously general sales manager at the parent plant in Columbus, Indiana. At Shotts, he replaces MR. D. J. CUMMINS, who returns to Columbus as vice-president (engineering).
MR. ROBERT WALKER, who has been chairman of the Cape Asbestos Co., Ltd.. since 1934, will retire from the board on August 31. He will be succeeded by MR. GILES NEWTON, deputy chairman and managing director. New joint managing directors will be MR. R. H. DENT and Mn. T. C. HALE, and the board will have a newmember in MR. T. MUIR WARDEN, who has been Mr. Walker's alternate since 1954. The control and co-ordination of sales throughout the group will be undertaken by MR. RUPERT RILEY.
Tags
People
:
CHARLES HEMM
,
GILES NEWTON
,
D. H. LANGLEY
,
R. H. DENT
,
G. R. PRITCHARD
,
G. G. PAGET
,
F. G. BELL
,
R. E. THOMAS
,
IVOR DAVIES
,
RUPERT RILEY
,
ROBERT WALKER
,
B. C. M AHONY
,
A. K. HOLLISHER
,
G. W. NEWBOULD