I.o.T. Award Winners Named
16th August 1957
Page 34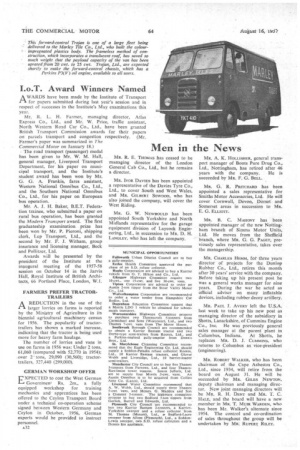 Page 34, 16th August 1957 —
I.o.T. Award Winners Named
Close
AWARDS have been made by the Institute of Transport for papers submitted during last year's session and in respect of successes in the Institute's May examinations this year.
papers (Mr.
The road transport (passenger) medal has been given to Mr. W. M. Hall, general manager, Liverpool Transport Department, for his paper on municipal transport, and the Institute's student award has been won by Mr. G. G. A. Frankis, fares assistant, Western National Omnibus Co., Ltd., and the Southern National Omnibus Co., Ltd., for his paper on European bus operation. .
Mr. A. J. H. Baker, B.E.T. Federation trainee, who submitted a paper on rural bus operation, has been granted the Modern Transport award. The first graduateship examination prize has been won by Mr. P. Pieroni, shipping clerk, Lep Transport, Ltd., and the second by Mr. F. J. Witham, group insurance and licensing manager, Beck and Pollitzer, Ltd.
Awards will be presented by the president of the Institute at the inaugural meeting of the 1957-58 session on October 14 in the Jarvis Hall, Royal Institute of British Architects, 66 Portland Place, London, W.1.