London Bus Revenue Falls : TV Menace
16th August 1957
Page 32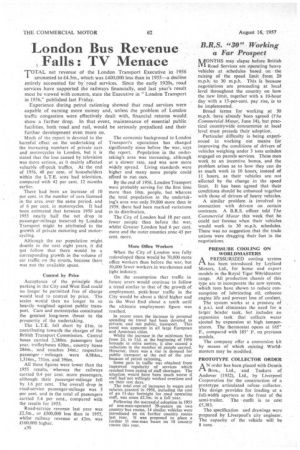 Page 32, 16th August 1957 —
London Bus Revenue Falls : TV Menace
Close
'TOTAL net revenue of the London Transport Executive in 1956 1. amounted to .E4.5m., which was £400,000 less than in 1955—a decline tntirely accounted for by' road services. Since the early 1920s, road
services have supported the railways financially, and last year's result must be viewed with concern, state the Executive in "London Transport in 1956," published last Friday.
Experience during petrol rationing showed that road services were capable of earning more money and, unless the problem of London traffic congestion were effectively dealt with, financial returns would show a further drop. In that event, maintenance of essential public facilities, both -road and rail, would be seriously prejudiced and their further development even more so.
Much of the report is devoted to the harmful effect on the undertaking of the increasing numbers of private cars and motorcycles in London, but it is stated that the loss caused by television was more serious, as it mainly affected valuable off-peak traffics. At the end of 1956, 48 per cent, of householders within the L.T.E. area had television, compared with 42 per cent. 12 months earlier.
There had been an increase of 10 per cent, in the number of cars licensed in the area over the same period, and of 6 per cent, in motorcycles. It had been estimated that between 1950 and 1955 nearly half the net drop in passenger-mileage incurred by London Transport might be attributed to the growth of private motoring and motorcycling.
Although the car population might double in the next eight years, it did not follow that there would be a corresponding growth in the volume of car traffic • on the streets, because there was not the available space.
Control by Price
Acceptance of the principle that parking in the City and West End could no longer be permitted free of charge would lead to control by price. The scales would then no longer be so heavily weighted against public transport. Cars and motorcycles constituted the greatest" long-term threat to the prosperity of the undertaking.
The L.T.E. fell short by £1m. to contributing towards the charges of the British Transport Commission. Central buses carried 2,288m. passengers last year, trolleybuses 630m., country buses 284m., and coaches 34m.: respective passenger mileages were 4,984m., 1,316m., 731m. and 396m.
All these figures were lower than the 1955 results, whereas the railways carried 0.4 per cent, more passengers, although their passenger-mileage fell by 1.6 per cent. The overall drop in road-service passenger-mileage was 3 per cent, and in the total of passengers carried 5.4 per cent., compared with the results for 1955.
Road-service revenue last year was £2.5m., or £500,000 less than in 1955, whilst railway revenue at £2m. was £100,000 higher.
A30
The economic background to London Transport's operations has changed significantly since before the war, says the report. Population in the undertaking's area was increasing, although at a slower rate, and was now more widely spread. Living standards were higher and many more people could afford to run cars.
By the end of 1956, London Transport were probably serving for the first time
more than 10m. people, but whereas the total population in the undertaking's area was only 59,000 more than in 1939, there had been marked variations in its distribution.
The City of London had 18 per cent. fewer people than before the war, whilst Greater London had 6 per cent. more and the outer counties zone 45 per cent. more.
More Office Workers When the City of London was fully redeveloped there would be 70,000 more office workers than before the war, but 50,000 fewer workers in warehouses and light industry.
On the assumption that traffic in future years would continue to follow a trend similar to that of the growth of employment, peak-hour traffic in the City would be about a third higher and in the West End about a tenth until
the ultimate employment figure was reached.
In recent years the increase in personal spending on travel had been devoted to private, and not public, transport. This trend was apparent in all large European and American cities.
Whilst the increase in the minimum fare from 2d. to 21d. at the beginning of 1956 brought in extra money, it also caused a reduction in the number of people carried. However, there was a rise in demand for public transport at the end of the year because of petrol rationing,
Some gain in traffic was obtained from improved regularity of services which resulted from easing of staff shortages. The situation would have been much worse if staff had'not willingly worked overtime and on their rest days.
The total cost of increases in wages and salaries granted in 1956, including the cost of an 11-day fortnight for road operating staff, was some £2.5m. in a full year.
Following the successful adoption in 1955 of one-man-operated 39-seaters on two country bus routes, 14 similar vehicles were introduced on six further country routes last year. It was proposed to place a further 31 one-man buses on 18 country routes this year.