Passing Comments
16th August 1957
Page 30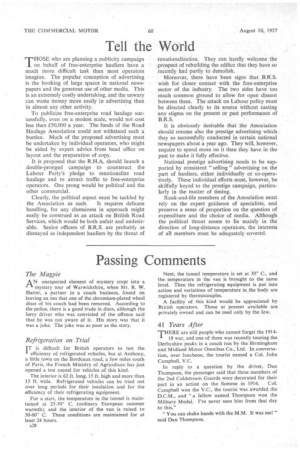 Page 31
Page 30, 16th August 1957 —
Passing Comments
Close
'The Magpie
A N unexpected element of mystery crept into a " mystery tour of Warwickshire, when Mr. R. W. Slatter, a partner in a coach business, found on leaving an inn that one of the chromium-plated wheel discs of his coach had been removed. According to the police, there is a good trade in discs, although the lorry driver who was convicted of the offence said that he was not aware of it. His story was that it was a joke. The joke was as poor as the story.
Refrigeration on Trial
IT is difficult for British operators to test the efficiency of refrigerated vehicles, but at Anthony, a little town on the Bordeaux road, a few miles south of Paris, the French Ministry of Agriculture has just opened a test tunnel for vehicles of this kind.
The interior is 62 ft. long, 15 ft. high and more than 15 ft. wide. Refrigerated vehicles can be tried out over long periods for their insulation and for the efficiency of their refrigerating equipment.
For a start, the temperature in the tunnel is maintained at 25-30° C. (ordinary European summer warmth), and the interior of the van is raised to 50-60' C. These conditions are maintained for at least 24 hours.
A28 Next, the tunnel temperature is set at 30° C., and the temperature in the van is brought to the same level. Then the refrigerating equipment is put into action and variations of temperature in the body are registered by thermocouples.
A facility of this kind would be appreciated by British operators. Those at present available are privately owned and can be used only by the few.
41 Years After THERE are still people who cannot forget the 1914' 18 war, and one of them was recently touring the Derbyshire peaks in a coach run by the Birmingham -and Midland Motor Omnibus Co.; Ltd. In conversa.tion, over luncheon, the tourist named a Col. John Campbell, V.C.
In reply to a question by the driver, Dan Thompson, the passenger said that three members of the 2nd Coldstream Guards were decorated for their
part in an action on the Somme in 1916. Col. Campbell won the V.C., the tourist was awarded the D.C.M., and "a fellow named Thompson won the Military Medal. I've never seen him from that day to this."
"You can shake hands with the M.M. It was mel " said Dan Thompson.
In Sheep's Clothing