Vulcan-Sinclair Fluidrive Makes Headway
16th August 1946
Page 43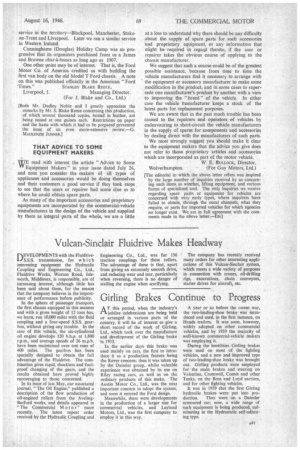 Page 43, 16th August 1946 —
Vulcan-Sinclair Fluidrive Makes Headway
Close
DEVELOPMENTS with the FluidriveS.S.S. transmission, for which interesting equipment the Hydraulic Coupling and Engineering Co., Ltd., Fluidrive Works, Worton Road, Isleworth, Middlesex, is responsible, are of increasing interest, although little has been said about them, for the reason that the company believes in the importance of performance before publicity.
In the sphere of passenger transport, the first chassis equipped in this manner and with a gross weight of 12 tons has, we learn, run 10,000 miles with the fluid coupling and a four-speed S.S.S. gearbox, without giving any trouble. In the case of this vehicle, the six-cylindered oil engine devetotis 120 b.h.p. at 1,800 r.p.m., and average speeds of 26 m.p.h. have been maintained over test runs of 400 miles. The gearbox has been specially designed to obtain the full advantage of the Fluidrive. The combination gives rapid, shockIess and foolproof changing of the gears, and the results obtained have proved highly encouraging to those concerned.
In its issue of last May, our associated journal, The Oil Engine," published a description of the flow production of oil-engined rollers from the AvelingBarford works, and details appeared in " The Commercial Motor" more recently. The latest repeat order received by the Hydraulic Coupling and Engineering Co., Ltd., was for 136 traction couplings for these rollers. The advantage of these is that, apart from giving an extremely smooth drive, and reducing wear and tear, particularly when reversing, there is no danger of stalling the engine when scarifying. The company has recently received many orders for other interesting applications of this Vulcan-Sinclair system, which meets a wide variety of purposes in connection with cranes, oil-drilling rigs, excavations, chain conveyors, starter drives for aircraft, etc.