WHERE
16th August 1932
Page 64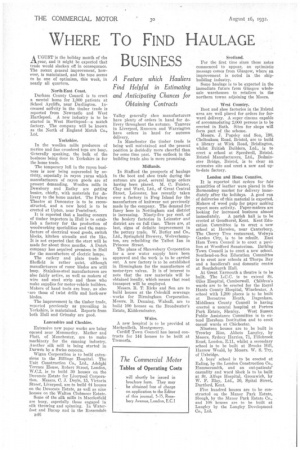 Page 64, 16th August 1932 —
WHERE
Close
To FIND HAULAGE
BUSINESS
A Feature which Hauliers Find Helpful in Estimating and Anticipating Chances for Obtaining Contracts
AUGUST is the holiday month of the year, and it might be expected that trade would slacken off in consequence. The recent general improvement, however, is maintained, and the tone seems to be one of optimism, this week, in nearly all quarters.
North-East Coast.
Durham County Council is to erect a mental home for 1,000 patients at School Ayeliffe, near Darlington. Increased activity in the timber trade is reported from Newcastle and West Hartlepool. A new industry is to be started in West Hartlepool—a match factory. The company will be known as the North of England Match Co., Ltd.
Yorkshire.
In the woollen mills producers of merino and fine crossbred tops are busy. Generally speaking, the bulk of the business being done in Yorkshire is for the home trade.
The temporary lull in the rayon business is now being superseded by activity, especially in rayon yarns -which manufacturers of rayon goods are at present demanding. Woollen mills in Dewsbury and Batley are getting busier, chiefly, with materials for delivery to the home market. The Palace Theatre at Doncaster is to be reconstructed, and a new hotel is to be erected at Upton, near Pontefract:
It is reported that a leading concern of timber importers in Hull is to establish a factory for the production of woodworking specialities and the manufacture of electrical wood goods, switch blocks, kitchen utensils and the like. It is not expected that the start will be made for about three months. A Dutch company has acquired premises in Hull for the manufacture of electric lamps. The cutlery and plate trade in Sheffield is rather quiet, although manufacturers of razor blades are still busy. Stainless-steel manufacturers are also fairly active, as well as makers of wire and steel strip and those who make supplies for motor-vehicle builders. Makers of hand tools are busy, as also 'are those of twist drills and hack-saw blades.
The improvement in the timber trade. reported previously as prevailing in Yorkshire, is maintained. Reports from both Hull and Grimsby are good.
Lancashire and Cheshire.
Extensive new paper works are being opened near Mommerley. Mather and Platt, of Manchester, are to make machinery for the canning industry. Another silk mill is being started in Darwen by a Swiss concern.
Wigan Corporation is to build extensions to the BiBinge Hospital. The Unit Construction Co., Ltd., Adelghi Terrace House, Robert Street, London, W.C2, is to build 80 houses on the Dovecate Estate for Liverpool Corporation. Messrs. C. J. Doyle, 15, Victoria Street, Liverpool, are to build 44 houses on the Dovecote Estate, as well as nine houses on the Walton Clubmoor Estate.
Some of the silk mills in Macclesfield are busy, especially, those engaged in silk throwing and spinning. In Waterfoot and Baeup and in the Rossendale
546
Valley generally shoe manufacturers have plenty of orders in hand for delivery throughout the autumn. Tanners in Liverpool, Rnneorn and Warrington have orders in hand for autumn delivery.
In Manchester the timber trade is being well maintained and the present position is decidedly more cheerful than for some time past. The outlook in the building trade also is more promising.
Midlands.
In Stafford the prospects of haulage in the boot and shoe trade during the autumn are good, several large orders having been placed. M. 0. Foister, Clay and Ward, Ltd., of Great Central Street, Leicester, has recently taken over a factory in Frog Island for the manufacture of knitwear not previously made by the company. The demand for fancy hose in Nottingham and district is increasing. Ninety-five per cent, of the hosiery factories in Leicester and district are on full time. There are, at last, signs of definite improvement in the pottery trade. W. Butler and Co., Ltd., Springfield Brewery, Wolverhampton, are rebuilding the Talbot Inn in Princess Street.
The plans of Shrewsbury Corporation for a new water supply have been approved and the work is to be carried out. A new factory is to be established in Birmingham for the manufacture of 'motor-tyre valves. It is of interest to note that the raw materials will be obtained locally, which means that road transport will be employed.
Messrs. R. T. Ricks and Son are to build houses at the Coleshill sewerage works for Birmingham Corporation. Messrs. B. Denning, Walsall, are to build 100 houses on the Broadwater's Estate, Kidderminster.
Wales.
A new hospital is to be provided at Machynlleth, Montgomery.
Cardiff Town Council has issued contracts for 144 houses to be built at Tremorfa. Scotland.
For the first time since these notes commenced to appear, an optimistic message comes from Glasgow, where' an improvement is noted in the shipbuilding industry.
Some haulage is to be expected in the immediate future from Glasgow wholesale warehouses to retailers in the northern towns adjoining the Moors.
West Country.
Boot and shoe factories in the Bristol area are well placed for orders for forward delivery. A super cinema capable
of accommodating 2000, persons is to be erected in Bath. Sites for shops will form part of the scheme.
Messrs. J. Pugsley and Son, 198, Cheltenham Road, Bristol, are to build a library at Wick Road, Brislington, whilst British Builders, Ltd., is to erect a school at Speedwell, Bristol. Bristol Manufacturers, Ltd., Bedminster Bridge, Bristol, is to clear an extensive site and erect a new and upto-date factory.
London and Houle Counties.
It is reported that orders for fair quantities of leather were placed in the Bermondsey market for delivery immediately after the holidays. A good run of deliveries of this material is expected. Makers of wood pulp for paper making report more activity. Paper-makers are looking for increased business almost
immediately. A parish hall is to be erected at Goudhurst, Kent. Kent Education Committee is to erect a new school at Hersden, near Canterbury. The Cherry Tree restaurant, Welwyn Garden City, is to he rebuilt. East Ham Town Council is to erect a pavilion at Woodford Sanatorium. Barking Town Council is to erect a new school. Southend-on-Sea Education Committee is to erect new schools at Thorpe Bay and a handicraft and domestic centre at Southchurch Hall.
At Great Yarmouth a theatre is to be built. The L.C.C. is to extend St. Giles Hospital, Camberwell. Children's wards are to be erected for the Royal Hants County Hospital, Winchester. A school with 1,200 places is te be built at Beeontree Heath, Dagenham. Middlesex County Council is having erected a mental hospital at Porters
Park Estate, Shenley. West Sussex Public Assistance Committee is to extend Horsham Institution and to erect casual wards at Chichester.
Nineteen houses are to be built in Trowley Rise, Abbots Langley, by Messrs. Sydney Harries, 71, Fillebrook Road, London, E.11, whilst a secondary school is to be built at Brooks Hill, Harrow Weald, by Messrs. W. S. Try, of Uxbridge.
A boys' school is to be erected at Ealing, by the London Construction Co., Hammersmith, and an out-patients' casuality and ward block is to be built at St. Alfege Hospital, Greenwich, by W. F. Blay, Ltd., 30, Spital Street, Dartford, Kent.
Five hundred houses are to be constructed on the Manor Park Estate, Slough, by the Manor Park Estate Co., and 108 houses are to be built at Langley by the Langley. Development Co., Ltd.
Tags
Organisations
:
BiBinge Hospital
,
East Ham Town Council
,
Cardiff Town Council
,
St. Alfege Hospital
,
Durham County Council
,
Southend-on-Sea Education Committee
,
Horsham Institution
,
Middlesex County Council
,
St. Giles Hospital
,
West Sussex Public Assistance Committee
,
Royal Hants County Hospital
,
Kent Education Committee
,
Barking Town Council
Locations
:
Manchester
,
Welwyn Garden City
,
Slough
,
Hartlepool
,
Canterbury
,
Sheffield
,
Glasgow
,
Nottingham
,
London
,
Leicester
,
Birmingham
,
Bath
,
Liverpool
,
Wolverhampton
,
Bristol
,
Winchester
,
Newcastle