An Ingenious
16th August 1932
Page 43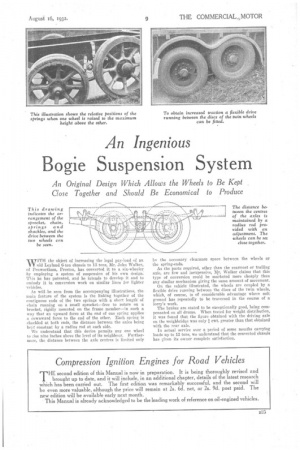 Page 43, 16th August 1932 —
An Ingenious
Close
Bogie Suspension System
An Original Design Which Allows the Wheels to Be Kept Close Together and Should Be Economical to Produce
W1TH the object of increasing the legal pay-load of an old Leyland 6-ton chassis to 13 tons, Mr. John Walker, of Penwortham, Preston, has converted it to a six-wheeler by employing a system of suspension of his own design. This he has patented, and he interolq to develop it and to embody it in conversion work on similar lines for lighter veh ides.
As will be seen from the accompanying illustrations, the main feature of the system is the linking together of the contiguous ends of the two springs with a short length of chain running on a small sprocket—free to rotate on a bracket, rigidly mounted on the frame member—in such a way that an upward force at the end of one spring applies a downward force to the end of the other. Each spring is shackled at both ends, the distance between the axles being kept constant by a radius rod at each side,
We understand that this device permits any one wheel to rise nine inches above the level of its neighbour. Furthermore, the distance between the axle centres is limited only
by the necessary clearance space between the wheels or the spring-ends.
As the parts required, other than the rearmost or trailing axle, are few and inexpensive, Mr. Walker claims that this type of conversion could be marketed more cheaply than any similar mechanism giving the same amount of movement.
On. the vehicle illustrated, the wheels are coupled by a flexible drive running between the discs of the twin wheels, which, of course, is of considerable advantage where soft ground has repeatedly to be traversed in the course of a lorry's work.
The brakes are stated to be exceptionally good, being compensated on all drums. When tested for weight distribution, it was found that the figure obtained with the driving axle on the weighbridge was only cwt. greater than that obtained with the rear axle.
In actual service over a period of some months carrying loads up to 13 tons, we understand that the converted chassis has !;,iven its owner complete satisfaction.