Passing Comments
16th August 1932
Page 36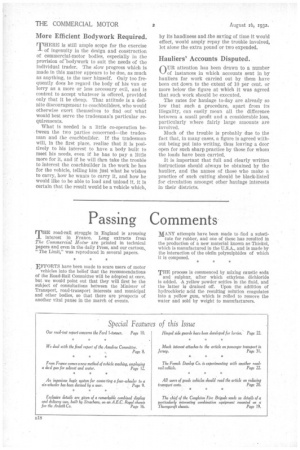 Page 37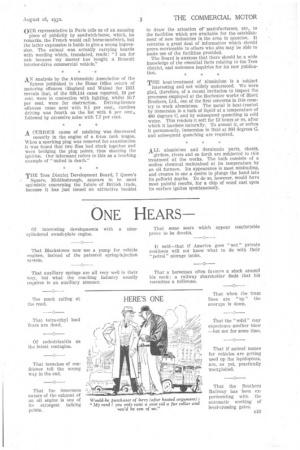 Page 36, 16th August 1932 —
Passing Comments
Close
THE road-rail struggle in England is arousing interest in France. Long extracts from The Commercial Motor are printed in technical Papers and even in the daily Press, and our cartoon, "The Limit," was reproduced in several papers.
EFFORTS have been made to scare users of motor vehicles into the belief that the recommendations of the Road-Rail Committee will be adopted at once, but we would point out that they will first be the subject of consultations between the Minister of Transport, road-transport interests and municipal and other bodies, so that there are prospects of another vital pause in the march of events. MANY attempts have been made to find a substi tute for rubber, and one of these has resulted in the production of a new material known as Thiokol, which is manufactured in the U.S.A., and is made by the interaction of the olefin polysulphides of which it is composed.
THE process is commenced by mixing caustic soda and sulphur, after which ethylene dichloride is added. A yellow powder settles in the fluid, and the latter is drained off. Upon the addition of hydrochloric acid the resulting solution coagulates into a yellow gum, which is rolled to remove the water and sold by weight to manufacturers. OUR representative in Paris tells us of an amusing piece of publicity by sandwich-horse, which, he remarks, the French would call horse-sandwich, but the latter expression is liable to give a wrong impression. The animal was actually carrying boards with wording which, translated, reads: " I am for sale because my master has bought a Renault interior-drive commercial vehicle."
AN analysis by the Automobile Association of the figures published in the Home Office return of motoring offences (England and Wales) for 1931 reveals that, of the 339,144 cases reported, 19 per cent. were in connection With lighting, whilst 10.7 per cent, were for obstruction. Driving-licence offences came next with 9.1 per cent., careless driving was fourth on the list with 8 per cent., f011owed by excessive noise with 7.7 per cent.
A CURIOUS cause of misfiring was discovered recently in the engine of a 6-ton tank wagon. When a sparking plug was removed for examination it was found that two flies had stuck together and were bridging the plug points, thus shorting the ignition. Our informant refers to this as a touching example of "united in death."
THE Tees District Development Board, 7 Queen's Square, Middlesbrough, appears to be most optimistic concerning the future of British trade, because it has just issued an attractive booklet to draw the attention of' manufacturers, etc., to the facilities which are available for the establishment of new industries in the area in question. It contains a great deal of information which should prove serviceable to others who also may be able to make use of the facilities provided.
The Board is anxious that there should be a wide knowledge of the essential facts relating to the Tees district, and welcomes inquiries for its new publication.
THE heat-treatment of aluminium is a 'subject interesting and not widely understood. We were glad, therefore, of a recent invitation to inspect the processes employed at the Rochester works of Short Brothers, Ltd., one of the first concerns in this country to work aluminium. The metal is heat-treated by immersion in a bath of liquid at a temperature of 480 degrees C. and by subsequent quenching in cold water. This renders it soft for 12 hours or so, after which it hardens naturally. To anneal it, or soften it permanently, immersion in fluid at 360 degrees C. and subsequent quenching are required.
ALL aluminium and duralumin parts, sheets, girders, rivets and so forth are subjected to this treatment at the works. The bath consists of a molten chemical maintained at its temperature by an oil furnace. Its appearance is most misleading, and creates in one a desire to plunge the hand into its pellucid depths. To do so, however, would have most painful results, for a chip of wood cast upon its surface ignites spontaneously.