One Hears
16th August 1917
Page 3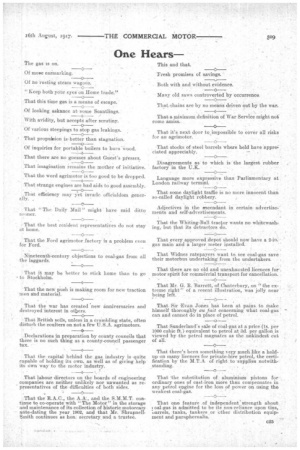 Page 3, 16th August 1917 —
One Hears
Close
The gas is on.
Of move earmarking.
Of no rusting steam wagons.
"Keep both year eyes on Home trade."
That this time gas is a means of escape.
Of looking askance at some Scantlings.
With avidity, but accepts after scrutiny.
Of various steepings to stop gas leakings.
That propulsion is better than stagnation.
Of inqyiries for portable boilers to burn-Wood. That there are no guesses about Guest's presses.
That imagination remains the mother of initiative.
That the word agrimotor iS too good to be dropped.
That strange engines are bad aids to good assembly.
That efficiency may -yet invade officialdom generally. , That "The Daily Mail" might have said ditto sooner.
That the best resident representatives do not stay at home.
That the Ford agrimotor factory is a problem even kr Ford.
• -Nineteenth-century objections to coal-gas from all the laggards.
That it may be better to stick home than to go • to Stockholm. • -That the new push is making room for new traction men and material.
That the war has created new anniversaries and destroyed interest in others.
That British soils, unless in a crumbling state, often disturb the coulters on not a few LT.S.A. agrimotors.
Declarations in preparation by county councils that there is no such thing as a county-council passenger tax.
That the capital behind the gas industry is -quite capable of holding its own, as well as of giving help its Own wayto the motor industry.
That labour directors on the boards of engineering companies are neither unlikely nor unwanted as representatives of the • difficulties of both sides.
:That the R.A.C., the AA:, and the S.M.M.T. continue to co-operate with "The Motor" in the storage and maintenance of its collection of historic motorcar, ante-dating the year 1902, and that Mr. ShrapnellSmith continues as bon: secretary and a trustee. This and that.
Fresh promises of savings. • Both with and without evidence.
Many old saws controverted by occurrence.
That-chains are by no means driven out by the war.
That a minimum definition of War Service might no come amiss..
That it's next door to_ impossible to cover all risks for an a.grimotor.
That stocks of steel barrels where held have a ppreL ciated appreciably.
Disagreements as to which is the largest rubber factory in the U.K.
• • 0 Language more expressive than Parliamentary at London railway termini.
That some daylight traffic is no more innocent than so-called daylight robbery.
Adjectives in the ascendant in certain advertisements and self-advertisements.
That the Whiting-Bull tractor wants no whitewash, ing,but that its detractors do.
That every approved depot should now have a 2-in. gas main and a larger meter installed.
That Widnes ratepayers want to see coal-gas .save their motorbus 'undertaking from the undertakers.
That there are no old and unexhausted licences for, motor spirit for commErcial transport for cancellation.
0 .
That Mr. .G. R. Barrett, of .danterbury, on "the ex; treme right" of a recent illustration, was jolly near being left. . .
That Sir Evan Jones ha 's been at pains to 'hake himself thoroughly au fait concerning what coal-gas can and cannot do in place of petrol.
That Sunderland's sale of coal-gas at a price (is. per 1000 cubic ft.) equivalent to petrol at Sd. per gallon is viewed by the petrol magnates as the unkindest cut of all.
That there's been something very much like a holdup on many licences for private-hire petrol, the certification by the M.T.A of right to -supplies notwith standing. , .
That the substitution of aluminium pistons for ordinary ones of cast-iron more than compensates in any petrol engine for the loss of power on using the weakest coal-gas.
That one feature of independent strength about oat-gas is admitted to be its non-reliance upon tins, 'oarrels, tanks, tankers ,or 'ether distribution equipment and paraphernalia.