Opinions from Others.
16th August 1917
Page 17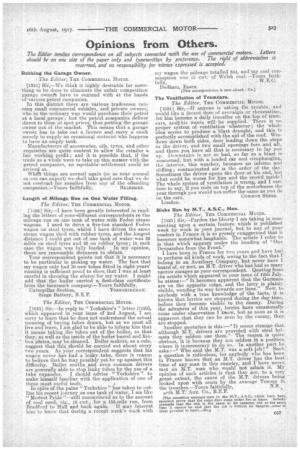 Page 17, 16th August 1917 —
Opinions from Others.
Close
The Editor invites correspondence on all subjects connected with the use of commercial motors. Letters should be on one side of the paper only and typewritten by preference. The right of abbreviation is reserved, and no responsibility for views expressed is accepted.
Robbing the Garage Owner.
The Editor, THE -COMMERCIAL MOTOR.
[1321] Sir,—We think it highly desirable for something to be done to eliminate the unfair competition garage owneit have to contend with at the hands of various petrol companies. In this district there are various tradesmen runfling small commercial vehicles, and private owners, who in the ordinary way would purchase their petrol at a local garage ; but the petrol companies deliver direct to them at spot prices, thus putting the garage owner out. of the market. This means that a garage owner has to take out a licence and carry a stock merely to supply an occasional motorist who happens to have an empty tank. Manufacturers of accessories, oils, tyres, and other requisites are quite content to allow the retailer a fair working profit ; and it is possible that, if the trade as a whole were to take up this master with the petrol companies, an equitable' settlement could be arrived at.
Whet things are normal again (or as neat normal as one can expect) we shall take good care that we do not contract for supplies from any of the offending companies.—Yours faithfully, SALESMEN.
Length of Mileage Run on One Water Filling.
The Editor, THE COMMERCIAL MOTOR.
[h5221 Sir,—I have been greatly interested in read: leg the letters of your-different correspondents re the mileage run on one tank of water with Foden steam Wagons. I used to drive a five-tori standard Foden wagon on steel tyres, whilst I have driven the same steam wagon shod with rubber tyres, and the longest distance. I could get out of one tank of water was 22 mile's on steel tyres and 26 on rubber tyres ; in each case the wagon was fully loaded. In my opinion, these are reasonable distances to obtain.
Your correspondent points out that it is necessary to be particular in picking up water. The fact that my wagon only had 10 new tubes fitted in eight years' running is sufficient proof to show. that I was at least careful in choosing the sdurce-for my water. I might add that the boiler carried a first-class certificate from the insurance company.—Yours faithfully,
Caterpillar Section, YORKSHIREMAN.' Siege Battery, B.E.F.
The Editor, Tat COMMERCIAL Moron.
[1523] Sir,—In reply to " Yorkshire's " letter (1520), which appeared in your issue of 2nd August, I am sorry to learn that he does not -understand the actual meaning of having tubes drawn but as we must all live and learn, I iinglad to be able to inform him that it means taking the tubes out of the boiler, so that they, as well as the inside of the boiler barrel and fire-. box plates, may be cleaned. Boiler makers, as a rule, suggest that this. should be carried cut about every two years. As.your eorrespendent suggests that his wagon never has had a leaky tube, there is reason to believe that he may possibly yet he up against this difficulty. Boiler, smiths, and evep common drivers are generally able to stop leaky tubes by the use of a, tube expander.. I should advise " Yorkshire " to make himself familiar with the application of one of these most useful tools.
In spite of the pains "Yorkshire" has taken to outline his. recent journey on one tank of water, I am like "Modest Pride "--still unconvinced as to the amount of. coal used, viz., 16 cwt.._, for a 155-mile run, from Bradford to Hull and back again. It may interest him to know that during a recent week's work with my wagon the mileage totalled 244, and .rny coal' con. sumption was 15 cwt. of Welsh coal..—Yours faith
fully, . W.E.C. '
Dedham, Essex.
[This correspondence is now elosed.LED.]
The Ventilation of Tramcars.
The Editor, THE COMMERCIAL MOTOR.
[1524] Sir,--If anyone is asking f-Or trouble, and would like a decent dose of neuralgia or rheumatism, let him become a daily traveller on the. top of tramcars, andthis wants Will. be supplied. There is no proper system of ventilation whatever; the whole idea see.ms to produce a blast draught, and this is perfectly accomplished with the aid of the roof. Windows down both sides, door leading down the steps to the driver, and two small openings fore and art, and there you have all that is necessary to lay you up. Downstairs is not so bad, so far as a blast is 'concerned, but with a, loaded car and straphanging,, the interior, this weather, becomes an inferno and stifling; contaminated air is the order of the day: Sometimes the driver opens the door, at his end, but what could be worse for him and the crowd inside ? The whole system of ventilation is wrong, and I von' tare to say, if you rode on top Of the motorbuses the year through you would nottsuffer the same as you do on the cats. CoanuoN SENSE. London. • Risks Run by M.T., A.S.C., Men.
The Editor, TitE COMMERCIAL MOT0R.
[1525] Sir,--Pardon the liberty I am taking in commenting upon a, certain feature which is published week by week in your journal, but to any of your i
readers n France it is so grossly exaggerated that it becomes somewhat laughable. The article I refer to is that which appears under the heading of "Our Despatches from the Front."
I have been in France for two years and have had to perform all kinds of work, owing to the fact that I . belong to an Auxiliary Company, but never have I heard of, or met, an M.T. driver who has had so many narrow escapes as your correspondent. Quoting from the article which appeared in your issue of 12th July. he states :—" It becomes apparent that the Germans are on the oppas. ite ridge, and the lorry, is plainly visible, wending its way towards our lines. ' Now, to anybody with a true knowledge of the facts, it is known that lorries are stopped during the day time, . before they become visible to the enemy. During the advances of this year, lorries have occaSionally come under observation I kihow, but as soon as it is apparent that they cart be seen by the enemy, they, are stopped. Another quotation is this :—" It seems strange that although M.T. drivers are provided with steel hel-" mete they seldom use them. ' The reason is quite; obvious, it is because they are seldom in a position. where it isinecessary to do so. In another part.he asks:—" Who said the M.T. was a, soft job ? " Such* a question is ridiculous, for anybody who has been.. in Fiance knows that an M.T. driver has the best:. time of any man in this country, and I' have never: met an M.T. man who would not admit it. My', opinion of such articles is that they are, to a very' great extent, the cause of the M.T. drivers being. looked upon with scorn by the average Tommy in
the trenches.—Yours faithfully, N.S. th M.T. Aux. Co., B.E.F.
(The casuglties amongst men in the M.T., A.S.C., which have bee•n. recorded prove that the corps does come under lire at times. Nobody' pretends that the risk in the same as for infantry, hut at the same time it cannot be said that the lob is without its dangers—some of'
them peculiar to itself.—ED,j •