The Arnold Auto-Port.
16th August 1917
Page 12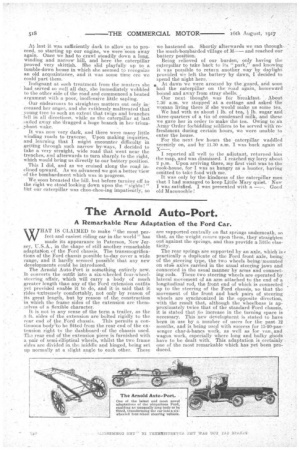 Page 12, 16th August 1917 —
The Arnold Auto-Port.
Close
A Remarkable New Adaptation of the Ford Car.
WHAT IS CLAIMED to make '' the most perfeet and easiest riding car in the world" has made its appearance in Paterson, New Jersey, U.S.A., in the shape of still another remarkable adaptation, of the Ford chassis. The tragismogrifications of the Ford chassis possible to-day cover a wide range,' and it hardly seemed possible that any new developments could be introduced.
The Arnold Auto-Port is something entirely new. It converts the outfit into a six-wheeled four-wheelsteering affair, which . Will carry a 'body of much greater length than any of the Ford extension outfits yet provided enable it to de, and it is Said that it rides 'extremely comfortably, not only by reason of its great length, but by reason of the construction in which the frame sides of the extension are them, selves of a flexible character.
It is not in any sense of the term a trailer, as the 8 ft. sides of the extension • are bolted rigidly to the rear end of the .FOrd chassis. This permits a continuous bodyfto be fitted from the rear end of the extension right to the dashboard•of the chassis used. Marear "end of the extension piece is furnished with a pair of Semi-elliptiCal Wheels, whilst the two frame sides are divided-in, the Middle and hinged, being set
up normally at a slight angle to each other. These _ .
are supported centrally on flat springs underneath; so that, as the weight collies upon them, they straigl4ten out against the springs, and thus provide a little elasticity.
The rear springs are supported by an axle, whichis practically a duplicate of the Ford front axle, being of the steering type, the two wheels being/mounted on stub axles carried in the usual steering jaws and connected in the usual manner by arms and connecting rods. These two steering wheels are operated by lateral movement of an arm attached to the end of a longitudinal rod, the front end of which is connected up to the steering of the Ford chassis, .so that the Movement of the front and back pairs of steering wheels are synchronized in the opposite direction, with the result that, although the wheelbase is approximately twice that of the standard-Ford chassis, it is stated that ito increase in the turning space is necessary. This new clevelopMent is stated. to have been inuse by a number of users for the past 12 months, and is being used with success for 15-20-passenger char-a-banes work, as well as Tor van, and. wagon work, especially where long and bulky goods have to be dealt with. This adaptation is certainly one of the most remarkable which has yet been produced.