Men in the News
16th April 1954
Page 34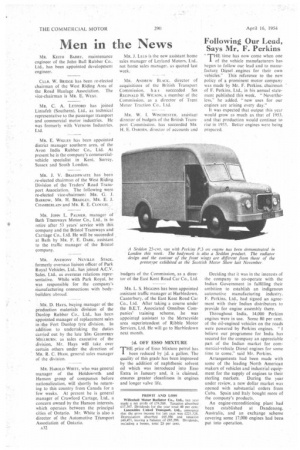 Page 34, 16th April 1954 —
Men in the News
Close
MR. KEITH BARRY, maintenance engineer of the John Bull Rubber Co.. Ltd., has been appointed development engineer, CLLR, W. BRIDGE has been re-elected chairman of the West Riding Area of the Road Haulage Association. The Vice-chairman is MR. E. WEST.
MR. C. A. LETFORD has joined Lintafelt (Southern), Ltd.. as technical representative to the passenger transport and commercial motor industries. He was formerly with Vernons Industries, Ltd.
MR. E. WIGLEY has been appointed district manager southern area, of the Avon India Rubber Co., Ltd. At present he is the company's commercialvehicle specialist in Kent, Surrey. Sussex and South London.
MR. J. V. BRAITHWAITE has been .re-elected chairman of the West Riding Division of the Traders' Road Transport Association. The following were re-elected vice-chairmen: MR. G. J. BARROW, MR. H. BRADLEY, MR. E. J. CHAMBERLAIN and MR. R. E. CLOUGH MR. ions L. PALMER. manager of Bath Tramways Motor Co., Ltd., is to retire after 53 years service with thiS company and the Bristol Tramways and Carriage Co., Ltd. He will be succeeded at Bath by MR. F. E. DARK, assistant to the traffic manager of the Bristol company.
Ma. AN I HONY NEVILLE STACK. formerly overseas liaison officer of Park Royal Vehicles. Ltd., has joined A.C.V. Sales, Ltd.. as overseas relations representative. While with Park Royal, he was responsible for the company's manufacturing connections with bodybuilders a broad.
MR. D. HAYS, buying manager of the production materials division of the Dunlop Rubber Co., Ltd" has been appointed manager of replacement sales in The Fort Dunlop tyre division. In addition to undertaking the duties carried out by the late MR) GEOFFREY MILLBURN. as sales executive of the division, Mr. Hays will take over certain others under the direction of MR. R. C. Hum, general sales manager of the division.
MR. HAROLD WHITE, WhO was general manager of the Holdsworth and Hanson group of companies before nationalization, will shortly be returning to this country from Canada for a few weeks. At present he is general manager of Crawford Cartage, Ltd., a concern owned by the Hanson interests, which operates between the principal cities of Ontario. Mr. White is also a director of the Automotive Vansport Association of Ontario. MR. J. LEES is the new assistant home sales manager of Leyland Motors, Ltd.. not home sales manager, as quoted last week.
MR. ANDREW BLACK. director of acquisitions of the British Transport Commission, h. a s succeeded SIR REGINALD H. WILSON. a member of the Commission, as a director of Trent Motor Traction Co.. Ltd.
MR. W. I. WINCHESTER. assistant director of budgets of the British Transport Commission, has succeeded MR. H. E. OSBORN. director of accounts and
budgets of the Commission, as a director of the East Kent Road Car Co., Ltd.
MR. L. S. HIGGINS has been appointed assistant traffic manager at Harbledown. Canterbury, of the East Kent Road Car Co., Ltd. After taking a course under the B.E.T. Associated Omnibus Companies' training scheme, he was appointed assistant to the Merseyside area superintendent of Ribble Motor Services, Ltd. He will go to Harbledown next month.
Id. OFF ESSO MIXTURE
THE price of Esso Mixture petrol has been reduced by ,1d. a gallon. The quality of this grade has been improved by the addition of naphthenic solvent oil which was introduced into Esso Extra in January and, it is claimed, ensures greater cleanliness in engines and longer valve life.
Tags
People
:
E. J. CHAMBERLAIN
,
E. WEST
,
L. S. HIGGINS
,
REGINALD H. WILSON
,
R. E. CLOUGH
,
NEVILLE STACK
,
H. BRADLEY
,
G. J. BARROW
,
E. WIGLEY
,
HAROLD WHITE
,
GEOFFREY MILLBURN
,
C. A. LETFORD
,
J. V. BRAITHWAITE
,
KEITH BARRY
,
R. C. Hum
,
F. E. DARK
,
W. I. WINCHESTER
,
D. HAYS
,
ANDREW BLACK
,
J. LEES