The Cream of British Bodywork
15th September 1950
Page 67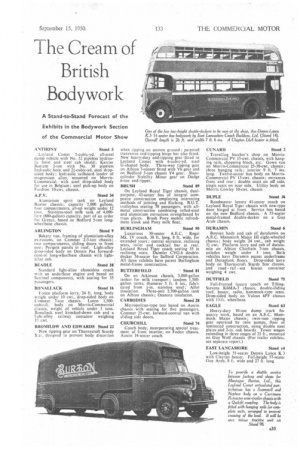 Page 68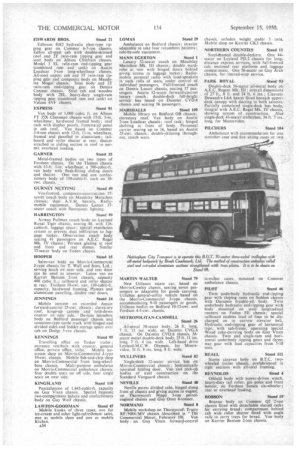 Page 70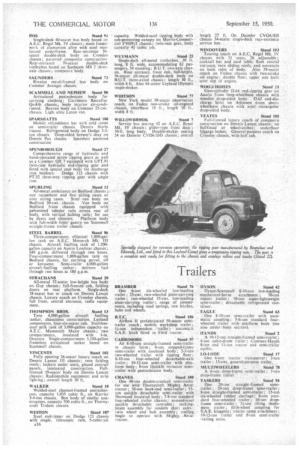 Page 67, 15th September 1950 —
The Cream of British Bodywork
Close
A Stand-to-Stand Forecast of the Exhibits in the Bodywork Section of the Commercial Motor Show
ANTHONY Stand 5
Leyland Comet 5-cubic-yd. all-steel dump vehicle with No. 32 pipeless hydraulic hoist and steel cab shield; Karrier 13antam 2-ton with No. 30 pipeless hydraulic hoist and 21-cubic-yd. steel dropsided body ; hydraulic tailboard loader of magnesium alloy, mounted on MorrisCommercial. with steel drop-sided body for use.in Belgium; steel pick-up body on Fordean 10-cwt. chassis.
A.P.V. Stand 34 Aluminium spirit tank on Leyland Beaver chassis; capacity 2,000 gallons, four compartments, all-up weight under 12 tons. Stainless-steel milk tank of 4,000litre (880-gallon) capacity, part of an order for Greece, based on Bedford 5-ton longwhce:base chassis.
AR1.INGTON Stand 9 Bakery van, framing of aluminium-alloy extrusions, on Commer 2-3-ton chassis; two compartments, sliding doors to front one ; Perspex panels in roof. Light-alloy drop-sided body on Dennis Pax forwardcone ol long-wheelbase chassis with lightalloy cab.
BEADLE Stand 18
Standard light-alloy chassisless coach with an underfloor engine and based on Sentinel components, with seating for 35 passengers.
BONALLACK Stand 16 Foden platform lorry, 24 ft. long, body weight under 10 cwt., drop-sided body on Commer 7-ton chassis. Luton 1,500cubic-ft. body on Morris-Commercial chassis, weight of vehicle under 3 tons. Bonaliack steel knocked-down cab and a light-alloy railway container weighing 13 cwt.
BROM1LOW AND EDWARDS Stand 22 New tipping gear on Thornycroft Sturdy Sete designed to prevent body distortion when tipping on uneven ground; patented transverse end-tipping hinge bar also fitted. New heavy-duty end-tipping vat—fitted to Leyland Comet with 6-cubic-yd. steel U-shaped body. Three-way tipping gear on Albion 7-tonner fitted with Y6 gear and on Bedford 5-ton chassis Y4 gear, Slantcylinder Stability Minor gear on Dodge 6-ton end-tipper.
BRUSH Stand 89 On Leyland Royal Tiger chassis, dualpurpose. 43-seater bus of integral composite construction employing interesting inethods of jointing and flitching. trolleybus seating 70 passengers, with allmetal construction combining rolled-steel and aluminium extrusions strengthened by truss plates. Brush Pony mobile refreshment kiosk and Pony milk float.
BURLINGHAM Stand 90
Luxurious 30-seater A.E.C. Regal Mk. IV coach, 30 ft. long, 8 ft. wide, for extended tours; central entrance, reclining seats, toilet and cocktail bar at rear. Leyland Royal Tiger coach seating 35 in reclining seats. Daimler CVG.6 doubledecker 54-seater for Salford Corporation. All three exhibits have patent Burlingham metal-frame construction.
BUTTERMELD Stand 81 On an Atkinson chassis, 3.000-gallon tanker for milk transport; tandem 1,500. gallon tanks, diameter 5 ft. 6 ins., fabricated from 1-in, stainless steel; Ale)!
insulation. Three-unit 2,700-gallon tank on Albion chassis; Ozanote insulation.
CARBODIES Stand 28 Metropolitan-type taxi based on Austin chassis with seating for five passengers. Commer 25-cwt. forward-control van with sliding side doors.
CHURCHILL Stand 74 Coach body, incorporating special treatment of front interior, on Foden chassis. Austin 14-seater coach. CUNARD Stand 3 Travelling butcher's shop on MorrisCommercial PV 15-ewt, chassis, with hanging rails, chopping block, etc. Gown van on Morris-Commercial 25-30-cwt. chassis; three hanging rails; interior 9 ft. 7 ins. long. Twelve-seater bus body on MorrisCommercial PV 15-cwt. chassis; entrances front and rear; double seats on oil side, single seats on near side. Utility body on Morris Cowley 10-cwt. chassis.
DUPLE Stand 36 Roadmaster luxury 41-seater coach on Leyland Royal Tiger chassis with new-type door hinged at front Service bus based on the new Bedford chassis. A 57-seater metal-framed double-decker on a Guy Arab chassis.
DURAMIN Stand 6 Boxvan body and cab of duralumin on A.E.C. Mammoth Major III eight-wheeled chassis; body weight 24 cwt., cab weight 3;', cwt. Platform lorry and cab of duralumin on Albion Chieftain 7-ton chassis, unladen weight under 3 tons. Both vehicles have Duramin patent underfranne and Duraplank floors. Drop-sided lorry body on Thornycroft Sturdy Star chassis, and road rail sea biscuit container weighing 4 cwt.
DUTFIELD Stand 75 Full-fronted luxury coach on TillingStevens K6MA-7 chassis, double-sliding roof, heater, radio, hammock-type seats. Drop-sided body on Vulcan 6PF chassis with 13-ft. wheelbase.
EAGLE Stand 63 Heavy-duty I0-ton dump truck for quarry work, based on an A.E.C. Mammoth Major chassis; twin-ram tipping gear operated by twin pumps, floor of laminated construction, using double steel plates and 2-in, oak boards. Tower wagon extending in three stages of 25 ft., mounted on Guy Wolf chassis (For trailer exhibits, see separate report.) EAST LANCASHIRE Stand 14
Low-height 51-seater Dennis Lance K 3 with Clayton heater. Full-height 57-seater Guy Arab, 8 ft, wide and 27 ft. long
EDWARDS BROS. Stand 21 Edbrotst EH2 hydraulic slant-type tipping gear on Commer 6-7-ton chassis. Edbro all-steel cab with double-skinned roof and 2T twin-ram tipping gear and steel body on Albion Chieftain chassis. Model 3 EL twin-ram end-tipping gear (combined ram and tank) on Austin Loadstar 5-ton long-wheelbase chassis: All-steel export cab and 3T twin-ram tipping gear and composite body on Maudslay Mogul chassis. Steel body and 2T twin-ram end--tipping gear on Dennis Centaur chassis. Steel cab and wooden body with 2EL heavy-duty single-ram tipping gear (combined ram and tank) on Vulcan 6VF chassis.
EXPRESS Stand 91 Van body of 1,000 -cubic ft. on Albion FT 35X Clansman chassis with I7-ft, 5-in, wheelbase; hardwood framed body; roof rack with display jpanels, illuminated panel in cab roof. Van based on Commer 3-4-ton chassis with I2-ft. 11-in, wheelbase, framed and n'anened in aluminium•, tailboard and roller shutter at rear, shutter attached to sliding section in root' to permit overhead loading.
GARNER Stand 35
Metal-framed bodies on two types of Fordson chassis. On the Thames chassis with.-13-ft. 1-in, wheelbase, a 500-cubic-ft. van body with flush-fitting sliding doors and shatter. One van and one confectionery body of 130-cubic-ft. each on 10cwt, chassis. .
GURNEY NUTTING . Stand 49 Vee-fronted. composite-construction37seater Coach body on Maudslay Marathon chassis; dual . A.V.H. heater's, Radiomobile equipment. Dennis Lancet 37seater coach with fluorescent lighting.
HARRINGTON Stand 99
Airway Pullman coach body on Leyland Royal Tiger chassis, seating 40, with 136cubic-ft. luggage space; special ventilation system to prevent dust infiltration to luggage locker. Observation coach body seating 41 passengers on A.E.C. Regal Mk. IV chassis; 'Perspex glazing in roof and front and iear domes. Similar 37-seater body on Foden chassis.
HOOPER Stand 15 Sales-van body on Morris-Commercial J-type chassis for T. Wall and Sons. Ltd.; serving hatch on near side, and rear door can be used as counter. Luton van on Karrier Bantam 2-ton chassis. capacity 400 cubic ft..: tailboard and roller shutter at rear. Fordson 10-cwt. van, 130-cubic-ft. capacity, hardwood framing, Piymax and aluminium panelling, double rear doors.
JENNINGS Stand 24 Mobile canteen on extended Austin forward-control 25-cwt. chassis; clerestory roof, hinge-up canopy and fold-down counter on near side. De-luxe horsebox body on Bedford passenger chassis and container-type cattle truck with hinged and divided sides and fodder.storage space over cab on Dodge 5-ton chassis.
KENNINGS Stand 95 Travelling office on Tasker trailer; entrance vestibule with counter, general
office, private office. toilet: Mobile icecream shop on Morris-Commercial J-type 10-cwt. chassis. Mobile fish-and-chip shop on Morris-Commercial 5-ton long-wheel
base chassis. Multi-purpose ambulance on Morris-Commercial ambulance chassis, four double seats on off side, four single seats on near side.
KINGSLAND Stand 110 Pantechnicon of 1,445-cubic-ft. capacity on Guy Vixen chassis. Special hygienic two-compartment bakery and confectionery body on Guy Wolf chassis.
LAWTON-GOODMAN Stand 47 Mobile kiosks of three types, one for ice-cream and other light-refreshment sales, one as mobile shop and one as mobile kitchen.
A34 LOMAS Stand 29 Ambulance on Bedford chassis; interior adaptable to take four recumbent patients; side-by-side equipment.
MANN EGERTON Stand I Luxury 32-seater coach on Maudslay Marathon Mk. Ill chassis; double. wardrobe at rear with hinged doors behind giving access to luggage locker ; Radiomobile personal radio with loud-speakers in neck rolls of seats, under control of individual passengers. Full-fronted coach on Dennis Lancet chassis, seating 37 passengers. Austin 32-seater forward-control luxury coach; double-deck full-height service bus based on Daimler CVD.6 chassis and seating 56 passengers.
MARSHALLS Stand 109 Mobile library on Bedford OB chassis; clerestory roof. Van body on Austin 2-ton Loadstar chassis; roof rack; hinged shelving at front of body. Personnel carrier seating up to 16, based on Austin 25-cwt. chassis; double-skinning throughout, coach seats.
MARTIN WALTER Stand 79
New Utilecon estate car, based on Morris-Cowley chassis, seating seven passengers or adaptable for goods carrying. Utilabus general-utility vehicle based on the Morns-Commercial J-type chassis, accommodating 9-10 passengers or goods. Utilecon bodies on Bedford I0-12-cwt. and Fordson 4-5-cwt. chassis.
METROPOLITAN-CAMMELL All-metal 58-seater body, 26 ft. long, 7 ft. 11 ins. wide, on Daimler CVG.fi chassis, On Daintier CVD.6 chassis, 54seater metal double-deck body, 25 ft. 11 ins. Jong. 7 ft. 4 ins. wide. Left-hand drive Leyland-M.C.W. Olympic, for Montevideo, 31 ft. 8 ins, long, Bit, wide.
MULLINERS Stand in Single-deck . 32-seater service bus on Morris-Commercial chassis; hydraulically operated folding door. Van and pick-up bodies of steel construction on the Standard Vanguard chassis.
NEVILLE Stand 48 Neville patent divided cabs, hinged along front of chassis and giving access to engine, on Thornycroft Nippy 3-ton petrolengined chassis and Guy Otter 6-tonner.
NORMAND Stand 8
Mobile workshop on Thornycroft Trusty RF/NR6/MV chassis (described in "The Commercial Motor, February 10): Van body . on Guy Vixen forward-control
chassis, unladen weight under 3 tons. Mobile shop on Karrier CK3 chassis.
NORTHERN COUNTIES Stand II Steel-framed .double-deckers. One 44seater on Leyland PD.2 chassis for longdistance express services, with full-fronted cab, enclosed rear platform and luggage compartment. One 56-seater on Guy Arab chassis, for limited-stop service.
PARK ROYAL Stand93 Double-deck 56-seater all-metal body on A.E.C. Regent Mk. fit; overall dimensions of 27 ft., 8 ft. and 14 ft. 6 ins.; ClaytonDewandre L6A heater fitted beneath upperdeck canopy with ducting to both saloons. Partially completed single-deck bits body, integral with A.E.C. Regal Mk. IV chassis, showing system of construction. Also single-deck 41-seater trolleybus, 34 ft:7 ins. long, for Montevideo.
FILCHERS Stand 184
Ambulance with accommodation for one stretcher case and five sitting cases or ZWO
stretcher cases, mounted on Commer ambulance chassis.
PILOT Stand 46
Twin underbody hydraulic end-tipping gear with sloping rams on Seddon chassis with Duramin 6-cubic-yd. body, Twin underbody hydraulic end-tipping gear with' body body mounted on steel longitudinal runners on Foden FE chassis; special tailboard enables load of lime to be discharged on to narrow elevator belt. Hydraulic end-tipping gear of horizontal type, with sub-frame operating special
Wood coke-carrying body on Guy Vixen chassis, Twin and single-ram and horizontal underbody tipping gears and threeway gear with load capacities from 5-18 tons.
REALL Stand III Stores caravan body on B.T.C. twowheeled trailer chassis,• prefabricated in eight sections with all-steel framing.
REYNOLDS Stand 4 Oilfield body with power-driven winch, heavy-duty tail roller, gin poles and front bolster, on Fordson Sussex six-wheeler; rear or overhead loading.
ROBSON Stand 19 Boxvan body on Commer Q2 2-ton chassis fitted with detachable slatted racks for carrying bread; compartment behind cab with roller shutter fitted with angle rails to carry trays for bread. Van body on Karricr Bantam 2-ton chassis. ROE Stand 92 Single-deck 40-seater bus body based on A.E.C. Regal Mk. IV chassis; main framework of aluminium alloy with steel reinforced underfranie. Rear-entrance 56seater double-deck body on Crossley chassis; patented composite construction Rear-entrance 70-seater double-deck trolleybus based on Sunbeam MS 2 threeaxle chassis; composite body.
SAUNDERS Stand 73 Rivaloy meial-framed bus body on Commer Avenger chassis.
SCAMMELL AND NEPHEW Stand 98 Articulated pantechnicon body for carrying clothing; Carrimore Retrai!tot Quikfit chassis; body interior air-conditioned. Boxvan body on Commer 25-cwe chassis. Light alloy Luton van.
SPARSHATTS Stand 108 Mobile refreshment bar with cold room on semi-trailer chassis, Dennis Horla tractor. Refrigerated body on Dodge 2-3ton chassis. Drop-sided brewer's dray on Dennis Pax chassis. Sparshatt patented construction SPENBOROUGFI Stand 27 Comprehensive range of hydraulic and hand-operated screw tipping gears as well as a Commer QX 7 equipped with UPT.91 twin-ram hydraulic end-tipping gear and fitted with special coal body for discharge into bunkers. Dodge 123 chassis with PT:52 three-way tipping gear with single ram.
SPURLING Stand 12 All-metal ambulance on Bedford chassis s. one recumbent and five sitting cases or nine sitting cases. Steel van body on Bedford 30-cwt. chassis. Van body on Bedford 5-ton chassis equipped with galvanized tubular rails across rear of body, with vertical lashing rails; for use by dyers and cleaners. Platform body with full-width front gantry on Scamrnell straight-frame trailer chassis.
STEEL BARREL Stand 96 Three-compartment elliptical -1,800-gallon tank on A.E.C. Monarch Mk. 111 chassis, Aircraft fuelling tank of 1,200gallon capacity on Austin Laadstar chassis; 140 g.p.m. delivered through two hoses. Four-compartment 1,800-gallon tank on Bedford chassis, for carrying petrol, oil or kerosene. Semi-trailer 4,000-gallon aircraft-fuelling tanker ; delivers fuel. through two hoses at 180 g.p.m.
STRACHANS Stand 20 All-metal 57-seater low-height but body on Guy chassis; full-fronted cab, folding doors on rear platform. Single-deck 38-seater bus or coach on Dennis Lancet chassis, Luxury coach on Crossley chassis, full front, central entrance, radio equipment.
IH0114PSON BROS. Stand 13 Tyne 4,000-gallon aircraft fuelling tanker, chassisless construction, Leyland zomponents, four-six-seater cab. Stainlesssteel milk tank of 3.000-piton capacity on A.E.C. Mammoth Major chassis; two compartments, insulated with 1-in. Onazote. Single-compartment 1,150-gallonframeless articulated tanker based on Scammell chassis.
V1NCENTS Stand 102 Fully opening 26-seater luxury coach on Dennis Lancet III chassis; twin folding roofs; lockers under seats, glazed can trail panels, laminated construction. Fullfronted 39-seater body on Dennis Lancet chassis; Radiornobile equipment and strip lighting ; overall length 30 ft.
WALKER Stand 10 Welded-steel channel-framed pantechnicon, capacity 1,035 cubic ft., on Karrier 3-4-ton chassis. Box body of similar construction, capacity 700 cubic ft., on Thornycroft Trident chassis.
WESTON Stand 107 Steel end-tipper on Dodge 123 chassis with single, telescopic ram, 5-cubic-yd. A36
capacity. Welded-steel tipping, body with cab-protecting canopy on Morris-Commercial FVQ9/5 chassis; twin-ram gear, body capacity 4/ cubic yds.
WEYMANN Stand 25 Single-deck all-metal trolleybus, 30 ft. tong, 8 ft. wide, accommodating 62 passengers, 34 standing: B.U.T. two-axle chassis. Rear entrance, front exit, full-height, 56-seater ail-metal double-deck body on B.U.T. three-axled chassis; length 30 ft., width 8 ft. Also 44-seater Leyland Olympic single-decker.
WHITSON Stand 77 New York model 39-seater observation coach, on Foden two-stroke oil-engined chassis. wheelbase 19 ft., length 30 fr., width 8 ft.
WILLOWBROOK Stand 7 Service bus seating 42 on A.E.C. Regal Mk. IV chassis; glider-type front door; 30-ft. long body. Double-decker seating 54 an Daimler CVD6/13D chassis; overall BRA M BUR Stand 76 One 6-tort six-wheeled low-loading trailer; 25-cwt. two-wheeled plant-carrying trailer; two-wheeled 35-cwt. low-loading plant-carrying trailer; range of components, including road springs, tow hitches, hubs and wheels.
Airflow 11 prefabricated 50-seater semitrailer coach ; mobile workshop trailer; If-ton independent trailer ; automatic S.A.E. hitch fitted to Ford tractor.
CARR1MORE Stand 97 An 8-10-ton straight-framed semi-trailer in chassis form; 8-ton stepped-frame semi-trailer with insulated body ; 2-3-ton two-wheeled trailer with tipping floor; 8-10-ton four-wheeled detachable-axle trailer; 113-12-ton semi-trailer with platformbody; 8-ton Quickfit retractor semitrailer with pantechnicon body.
CRANES Stand 10111 One 40-ton double-cranked semi-trailer for use with Thornycroft Mighty Antar tractor; 30-ton hook-end semi-trailer; 15ton quickly detachable semi-trailer with Normand insulated body; 7-8-ton standard four-wheeled trailer chassis; pressed-steel quickly detachable turntable; rockingbeam assembly for tandem short axles : twin wheel and hub assembly ; trailing bogie to operate with 1Vlighty Antos tractor. length 27 ft. On Daimler CVG6SSO chassis 34-seater single-deck rear-entrance service bus...
W1NDOVERS Stand 103 Touring coach on A.E.C. Regal Mk. IV chassis with 31 'seats, 26 adjustable; cocktail bar and card table, flush central entrance, twin sliding roofs, and entrances on both sides of body. Also 39-seater coach on Foden chassis with two-stroke oil engine ; double floor, upper one built over top of engine.
W001 HOISTS Stand 23 Slant-cylinder D,64 end-tipping gear on Austin 5-ton long-wheelbase chassis with , wooden drop-sided body. D.62 end-discharge hoist on Atkinson 6-ton shortwheelbase chassis with steel rectangular drop-sided body.
YEATES Stand 105 Full-fronted luxury coach of composite construction on Dennis Lancet chassis; no bulnhead or wheel-arches; underfloor Idggage locker. General-purpose coach on Crossley chassis, with half cab.
DYSON Stand 62 Dyson-Scammell 8-10-ton low-loading mechanical-horse attachment • 70-ton export trailer; 10-ton super-lightweight semi-trailer; detachable refrigerated container.
EAGLE 63 EAi aGerL. Stand
One 8-10-ton semi-trailer with automatic coupling; 5-6-ton standard fourwheeled trailer with • platform body (see also under :body section).
HANDS Stand -2
A 10-12-ton straight-framed semi-trailer; 4-ton cable-drum trailer; Commer-Hands 8-ton and 11-ton tractor and semi-trifler outfits.
LO-LODE .e 6 -I01DEStand 17
ton tractor transporter; 3-ton trailer ; 15-cwt. general-purpose triler.
MU LT1WH EELEIRS . Stand A 6-ton drop-frame semi-trailer; 541.on drop-frame trailer TASKERS Stand 94
One 20-ron straight-framed semitrailer; 20-ton drop-frame semi-trailer; 8-ton straight-framed semi-trailer; 15-ton six-wheeled timber carriage; 8-ton standard four-wheeled trailer ; 10-ton dropframe semi-trailer; 3/-ion. tilting implement• trailer; fifth-wheel coupling for S.A.E. kingpins; tractor ramp attachment ; 10-12-ton trailer and 8-ton semi-trailer trailing axles.