Atkinson Goes Into the Coach Market
15th September 1950
Page 58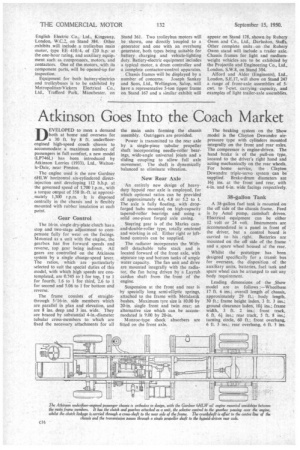 Page 58, 15th September 1950 —
Atkinson Goes Into the Coach Market
Close
DEVELOPED to meet a demand both at home and overseas for a 30 ft. by 8 ft. underfloorengined high-speed coach chassis to accommodate a maximum number of passengers in full comfort, a new model (LP746L) has been introduced by Atkinson Lorries (1933), Ltd., Waltonle-Dale, near Preston.
The engine used is the new Gardner 6HLW horizontal six-cylindered directinjection unit developing 112 b.h.p. at the governed speed of 1,700 hp.m., with a torque output of 358 lb.-ft. at approximately 1,300 r.p.m. It is disposed centrally in the chassis and is flexibly mounted with rubber insulation at each point.
Gear Control The 16-in, single dry-plate clutch has a stop and two-stage adjustment to compensate fully for wear on the facings. Mounted as a unit with the engine, the gearbox has five forward speeds and reverse, top gear being indirect. All gears are controlled on the Atkinson system by a single change-speed lever. The ratios, which are particularly selected to suit the special duties of this model, with which high speeds are contemplated, are 0.745 to I for top, I to I for fourth. 1.6 to 1 for third, 2.6 to 1 for second and 5.06 to 1 for bottom and reverse.
The frame consists of straightthrough 5/16-in, side members which are parallel in plan and elevation, and are 8 ins, deep and 3 ins. wide. They are braced by substantial 4-in.-diameter tubular cross-members to which are fixed the necessary attachments for all the main units forming the chassis assembly. Outriggers are provided.
Power is transmitted to the rear axle by a single-piece tubular propeller shaft incorporating needle-roller bearings, wide-angle universal joints and a sliding coupling to allow full axle movement. The shaft is dynamically balanced to eliminate vibration.
New Rear Axle
An entirely new design of heavyduty hypoid rear axle is employed, for which optional ratios can be provided of approximately 4.4, 4.8 or 5.2 to 1. The axle is fully floating, with dropforged hubs mounted on high-rapacity tapered-roller bearings and using a solid one-piece forged axle casing.
Steering gear is of the Marles camand-double-roller type, totally enclosed and working in oil. Either right or lefthand controls can be supplied.
The radiator incorporates the Withnell detachable tube stack and is located forward of the front axle, with separate top and bottom tanks of ample water capacity. The fan unit and drive are mounted integrally with the radiator, the fan being driven by a Layrub cardan shaft from the front of the engine.
Suspension at the front and rear is by specially long semi-elliptic springs, attached to the frame with Metalastik bushes. Maximum tyre size is 10.00 by 20-in, single front and twin rear; an alternative size which can be accommodated is 9.00 by 20-in.
Monroe-type shock absorbers are fitted on the front axle. The braking system on the Show model is the Clayton Dewandre airpressure type with cylinders mounted integrally on the front and rear axles. The compressor is engine-driven. The hand brake is of the pull-on type, located to the driver's right hand and acting mechanically on the rear wheels. For home service, the Clayton Dewandre triple-servo system can be supplied. Brake-drum diameters are 164 ins, at the front and rear, with 4-in. and 6-in, wide facings respectively.
38-gallon Tank A 38-gallon fuel tank is mounted on the off side of the chassis frame. Feed is by Amal pump, camshaft driven. Electrical equipment can be either 12 volt or 24 volt. Instruments are accommodated in a panel in front of the driver, but a control board is
carried to his . right. Batteries are mounted on the off side of the frame and a .spare wheel housed at the rear.
Whilst the prototype has been designed specifically for a transit bus for overseas, the disposition of the auxiliary units, batteries, fuel tank and spare wheel can be arranged to suit any body requirement.
Leading dimensions of the "Show model are as follows :—Wheelbase 17 ft. 6 ins.; overall length of chassis, approximately 29 ft.; body length, 30 ft.; frame height laden, 3 ft. 3 ins.; ground clearance laden, 104 ins.; frame width, 3 ft. 2 ins.; front track, 6 ft. 64 ins.; rear track, 5 ft. 8 ins.; turning circle, 60 ft.; front overhang, 6 ft. 3 ins.; rear overhang, 6 ft. 3 ins.