Unipower Produces Load Carriers With Four Wheel Drive
15th September 1950
Page 45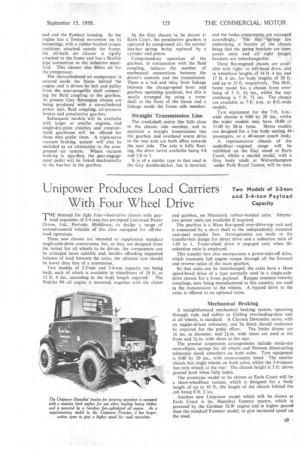 Page 45, 15th September 1950 —
Unipower Produces Load Carriers With Four Wheel Drive
Close
THEdemand for light four-wheel-drive chassis with payload capacities of 2-4 tons has prompted Universal Power Drives, Ltd.,' Perivale, Middlesex, to design a range of normal-control vehicles of this class equipped for off-theroad operation.
These new chassis are intended to supplement standard single-axle-drive conversions, but, as they are designed from the outset for all wheels tobe driven, the components can be arranged more suitably and, besides affording improved balance of load between the axles, the ultimate cost should be lower than that of a conversion.
Two models of 2-3-ton and 3-4-ton capacity are being built, each of which is available in wheelbases of 10 ft. or 13 ft. 4 ins., according to the body length required: The Perkins P6 oil engine is mounted, together with the clutch and gearbox, on Metalastik rubber-bonded units. Alternative power units are available if required.
The gearbox is a Moss five-speed'over-drive-top unit and is connected by a short shaft to the independently mounted cast-steel transfer box. Arrangements are made in the transfer-box design for direct drive and a reduction ratio of 1.69 to I. Front-wheel drive is engaged only when thc reduction ratio is employed.
This transfer box also incorporates a power-take-off drive, which transmits full engine torque through all the forward and reverse ratios of the main gearbox.
So that units can be interchanged, the axles have a Moss spiral-bevel drive of a type normally used in a single-axledrive chassis for a 6-ton payload Rzeppa constant-velocity couplings, now being manufactured in this country, are used in the transmission to the wheels. A hypoid drive to the axles is offered as an optional extra.
Mechanical Braking
A straightforward mechanical braking system, operating through rods and cables to Girling two-leading-shoe unit at all wheels, is standard. A Clayton Dewandre servo, with an engine-driven exhauster, can be fitted ,should assistance be required for the pedal effort. The brake drums are 16 ins, in diameter, and 2i-in. wide shoes are used at the front and 3+-in. wide shoes at the rear.
The present suspension arrangements include stock-size semi-elliptic springs for all wheels and Newton direct-acting telescopic shock absorbers on both axles. Tyre equipment is 9.00 by 20 ins., with cross-country tread. The smaller chassis has single wheels on both axles, whilst the 3-4-tonner has twin wheels at the rear. The chassis height is 3 ft. above ground level when fully laden.
The prototype model to be shown at Earls Court will be a short-wheelbase version, which is designed for a body length of up to 10 ft., the length. of the chassis behind the cab being 8 ft. 2 ins.
Another new Unipower model which will be shown at Earls Court is the Hannibal forestry tractor, which is powered by the Gardner 5LW engine and is higher geared than the standard Forester model, to give increased speed on the road.